Bee Jays Walk Over Curve
Brock Kappelmann - June 19, 2021 7:26 am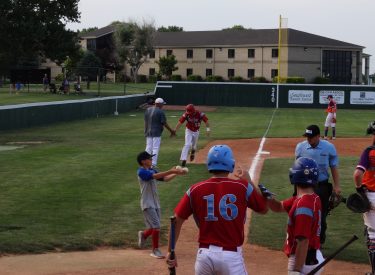 The Kansas (Goddard) Curve walked 12 Liberal Bee Jay hitters as the Bee Jays won 12-3 Friday night at Brent Gould Field.  The Bee Jays were solid on the mound and banged out 10 hits in the win.
The Curve scored a run in the third.  In the bottom of the third, Cason Gregory and Justin Harris walked to lead off the inning.  AJ Folds walked to load the bases with one out.  Gregory scored on a wild pitch.  Wyatt Grant singled home a run with a smash inside the third base bag.  Cayde Ward whistled a two RBI double to left center to make it 4-1.  Ryan Proctor lined a single up the middle for the 5-1 lead.  The Curve scored a run in the fourth to cut the deficit to 5-2.  In the bottom of the fifth, Wyatt Grant walked to lead off the inning.  Cayde Ward singled.  Blaine Thomas singled home a run.  Aidan Shepardson blasted a two run home run over the left field wall for the 8-2 lead.  It was his third homer of the week.  Liberal added four in the eighth.  Gregory walked and Justin Harris lined an RBI double to right.  With one out, Tyler Boggs singled in his first at bat.  Grant walked.  Ward hit a sac fly to center.  Thomas reached on an error.  Shepardson walked with the bases loaded.
Liberal out hit the Curve 10-7 and both teams had three errors.  Liberal is 9-1 and 4-0 in the Jayhawk Division of the KCLB.  The Curve is 7-5 overall and 0-4 in the division.  Liberal hosts the Curve Saturday night at 7 at Brent Gould Field with the Dugout Show at 6:45 on 1270 and kscbnews.net.  Southern Pioneer is the game sponsor.  Liberal Recreation baseball and softball teams are invited to wear their jerseys and run the bases during the game.