Bee Jays Walk Off Winners at Home
Brock Kappelmann - July 19, 2019 7:14 am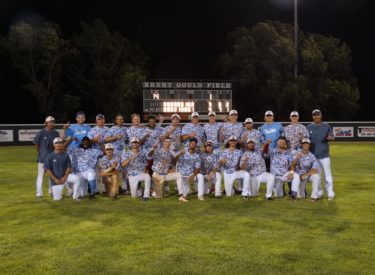 Shane Sirdashney's ground ball single to left field set off a chain of events Thursday night at Brent Gould Field.  First and foremost, it caused a celebration as the Bee Jays walked off with a 4-3 win as Sirdashney drove home Connor Emmet to beat Dodge City in the bottom of the ninth.  In the big picture, it means the Bee Jays win the Jayhawk Division of the Kansas Collegiate League and will play the Kansas Cannons in Augusta sometime next week.  They will play a best two out of three to determine the league champion.  The win also means the BJ's advance to Championship Week of the NBC World Series August 1 or 2.
Payton Strambler pitched seven strong innings for Liberal.  He struck out seven and allowed one run.
Liberal scored two in the fourth to take the lead against the A's.  Aiden Shepardson singled home a run and another run scored on a pair of Dodge City errors.  Brandon Holdren singled home a run in the fifth to make it 3-0.  Dodge City scored one in the seventh and two in the ninth to tie it.  In the bottom of the ninth, Emmet walked and Cayde Ward singled before Sirdashney's walk off winner.
Liberal and Dodge City split the four games at Brent Gould Field but Liberal wins the season series 5-3.  Liberal is 26-12 overall and finishes 20-12 in the KCLB and 10-6 in the Jayhawk Division.  Dodge City is 22-15  and finishes 17-15 in the KCLB and 4-12 in the division.  Liberal finishes 15-6 at home.
Liberal faces the Kansas Cannons in Augusta Friday and Saturday with an if necessary game Sunday.  The games will air at 6:45 on 1270 and kscbnews.net.