Bee Jays Take Two at North Platte
Brock Kappelmann - June 8, 2023 6:40 am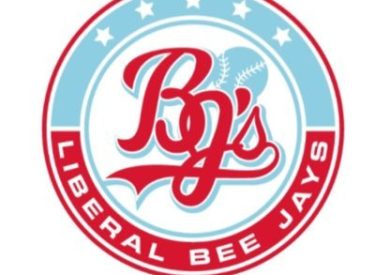 The Liberal Bee Jays took the field for the second time this season.  They ventured to North Platte, Nebraska to play the Plainsmen.  Liberal won 5-2 and 8-5 Wednesday night.
In game one,  the Plainsman scored one in the first and the BJ's scored one in the second.  Both teams scored in the fourth for a 2-2 tie.  Liberal plated two in the fifth and one in the sixth for the 5-2 lead.  Liberal out-hit North Platte 13-2 and the BJ's had one error.  Derek Lukes was 3-4 with a home run and two RBI's.  Walker Polk and Owen May were both 3-3.  Konnar Williams pitched 3 and 2/3 and did not allow an earned run.  Tyler Hankins pitched 2 and 1/3 allowing one earned run.  Ryder Slayton pitched one shutout inning.
In game two, the Plainmen scored first with two in the second.  The Bee Jays tallied three in the fourth and two in the fifth to lead 5-2.  North Platte scored three in the fifth to tie the game 5-5.  Liberal scored one in the sixth and two in the seventh for the lead.  The BJ's out-hit the Plainsmen 9-8.  Liberal committed three errors in the win.  Luke Rhee was 2-4 with four RBI's and a triple.  River Jackson hit a home run.  Tyson Carlton pitched three innings allowing two runs.  Adrian Najar went two innings allowing three runs.  Holden Carpenter went 1 and 2/3 scoreless.
Liberal is 3-0 and North Platte is 0-7.   The same two teams meet Thursday night at 6:35 in North Platte.