Bee Jays Take Pitcher's Dual Over Dirtbags
Brock Kappelmann - June 10, 2021 7:09 am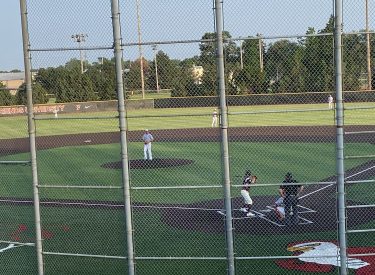 The Liberal Bee Jays improved to 3-0 in the Jayhawk Division of the KCLB with a 3-2 win over the Wichita Dirtbags Wednesday night at the Kansas Baseball Hall of Fame Complex in Wichita.
The Dirtbags, formerly the Clearwater Outlaws, scored in the first.  Liberal's Ryan Proctor reached on an error to lead off the third.  AJ Folds delivered a two out line drive single to left to score Proctor and tie the game at one.  Dirtbag Jake Pearson homered to left in the sixth for a 2-1 Dirtbag lead.  The two deficits in the game were the first time Liberal trailed in this early season.  AJ Folds walked to lead off the eighth.  He then stole second.  Cason Gregory faked a bunt and singled.  Wyatt Grant slapped a single to left to tie the game.  Grant would later score on a wild pitch for the lead.  The Bee Jays had to wiggle out of several jams.  Brady Bowles notched a strikeout to get out of a bases loaded jam in the fifth.  In the ninth with the tying run on third and the winning run on second, Jack Chester induced a ground ball to BJ shortstop Justin Harris.
The BJ's were solid on the mound again.  Eric Turner became the 12th different BJ pitcher in four games.  He went three solid innings allowing one run with three strikeouts and one walk.  Brady Bowles went three innings allowing one run with three strikeouts and no walks with one HBP.  Jack Chester closed it out with three scoreless innings with four strikeouts and no walks.
Liberal out hit the Dirtbags 8-5.  It was Liberal's worst defensive game committing three errors while Wichita had one error.
Liberal is 4-0 and 3-0 in the Jayhawk Divsion of the Kansas Collegiate League.  The Dirtbags, who play their games at Friends University's Field, are 1-2 and 0-1 in the Jayhawk Division.