Bee Jays Take Down Twins
Brock Kappelmann - July 21, 2016 7:05 am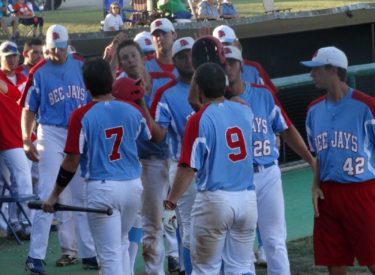 The Bee Jays defeated the Derby Twins 13-6 Thursday night at Brent Gould Field. Liberal built leads of 4-0, 8-1, and 12-3 on the way to the series clinching win. Liberal is all alone in second place in the second half standings.
Brent Bezio gave the Bee Jays a solid starting outing going five innings allowing one earned run. Zach Hansen pitched two scoreless innings. Jacob Moreland worked the last two innings allowing one earned run.
Liberal scored three in the first. Blake Brewster doubled down the right field line to drive home Liberal's first run. Blake Jenkins singled home two. Cale O'Donnell walked with the bases loaded in the second. The BJ's plated four in the fourth. O'Donnell lined a sac fly to right. Brady Cox drove home a run on a fielder's choice. Brewster lined a home run to right for his second of the season and in as many nights. Liberal added three in the fifth. Marc Mumper drove home a run on a fielder's choice and Kyle Knauth singled home a run. Liberal scored another run after botched run down and error by Derby. In the seventh, Jenkins doubled home a run. Mumper singled home a run in the eighth. Liberal out-hit the Twins 15-11.
Liberal is 9-6 in the second half standings and 17-19 overall in the league and 18-20 overall. Derby is 7-9 in the league's second half standings. Liberal plays three in Bethany, Oklahoma against the Bulls at Dolese Park Friday and Saturday at 5 with the Dugout Show at 4:45 and Sunday at 3 with the broadcast beginning internet only Sunday at kscbnews.net and joining on 1270 when the Royals game ends Sunday.