Bee Jays Take Down Dirtbags
Brock Kappelmann - July 4, 2021 8:40 am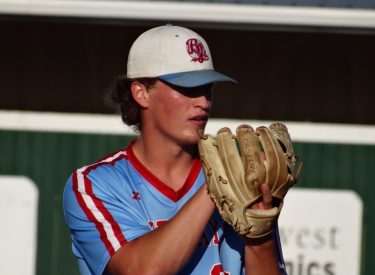 The Liberal Bee Jays won both games of the series with the Wichita Dirtbags with an 8-5 win Saturday night at Brent Gould Field.  Liberal's pitching, defense, and just enough offense did the trick.
Liberal outhit the Dirtbags 8-5.  The Dirtbags had the game's only error.
Liberal scored a run in the third when AJ Folds singled and stole second base.  Scott Anderson doubled home a run.  The Dirtbags scored three in the fourth against starter Cade Citelli to take a 3-1 lead.  Liberal tied the game in the fifth.  Quintt Landis singled and stole second.  Folds walked.  Cayde Ward hit a sacrifice fly to make it 3-2.  Scott Anderson grounded out to score the third run and tie the game 3-3.  The BJ's took the lead with two in the sixth.  Aidan Shepardson walked to lead off the sixth.  Jack Malone was beaned.  Elijah McCarter came  in to pinch run.  Tyler Boggs walked.  Landis walked with the bases loaded.  Folds walked.  McCarter scored on a wild pitch for the 5-3 lead.  The Dirtbags responded by plating two in the seventh to tie it 5-5.  The Dirtbags walked three in the seventh leading a a Boggs sac fly for the 6-5 lead.  Quintt Landis led off the eighth with a singled and he promptly stole second.  He scored on a wild pitch from second base as the Dirtbag catcher couldn't find the wild pitch.  Scott Anderson singled and Wyatt Grant singled him home for the 8-5 lead.
Cade Citelli pitched four innings with seven strikeouts allowing three runs.  Jack Hagan pitched two scoreless innings with three strikeouts.  Kyle Duffey pitched one inning allowing one run.  Payton Strambler went two scoreless innings with three strikeouts for the save.
Liberal is 15-2 overall and 10-0 in the Jayhawk Division of the Kansas Collegiate League.  Wichita is 7-13 overall and 3-8 in the Jayhawk Division.
The Bee Jays host the Dodge City A's for the 4th of July game Sunday night at 7 at Brent Gould Field.  Dugout Show at 6:45 on 1270 and kscbnews.net.  The Community Bank is the buyout sponsor.  The fireworks show will follow the game.  Fellowship Baptist Church will put on a free picnic from 2:30-5:30 at Brent Gould Field.
Game audio, first five innings:
Game audio, sixth inning to postgame: