Bee Jays Sweep Owasso
KSCB News - June 3, 2013 7:17 am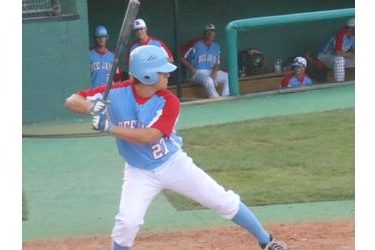 The Liberal Bee Jay final tuneup before Jayhawk League play was successful. Liberal beat the Owasso Angels 9-1 Sunday night at Brent Gould Field. The BJ's sweep the series to begin their season 3-0.
The BJ bats scored three in the second, four in the fourth, and two in the fifth. Cowley's Dylan Delso was 4-5 with an inside the park homerun and four RBI's. Lubbock Christian's Tanner Rainey continued his torrid start going 3-5 with two RBI's on a night when he played shortstop. Texas State's Lewis Guilbeau was 3-4 with two RBI's.
Liberal was dominant on the mound. East Texas right hander Justin Schnedler pitched four scoreless innings with six strikeouts while left Cody Tillotson of Nicholls State pitched three innings. Tennessee Martin's Trevor Lundgrin pitched the eighth and Grayson's Ray Ashford pitched the ninth.
The Bee Jays host the 3-0 Hays Larks Monday night at 7 at Brent Gould Field. It is the Jayhawk League opener for both teams. Hays won last year's league crown by four games going 23-11. Days Inn is Monday night's buyout sponsor.