Bee Jays Sweep Greeley
Brock Kappelmann - July 14, 2020 7:18 am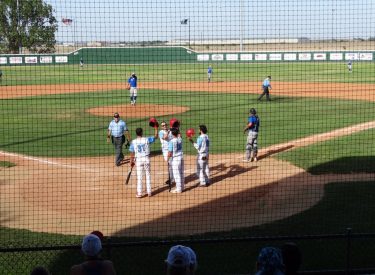 The Liberal Bee Jays swept the Greeley Grays 18-11 and 10-1 Monday afternoon and evening at Brent Gould Field.  The BJ's improve to 12-1 at Brent Gould Field and have scored in double digits in 13 of their 22 games.
The visiting Grays got off to a great start in game one scoring three in the first and five in the second on a day with a temperature of 100 and heat index of 107.  The Bee  Jays began the comeback with three in the second.  Wyatt Grant singled home a run and Nate White slashed a triple to left center to score two and make it 8-3.  Cayde Ward whistled a two RBI double down the left field line in the third to make it 8-5 and Grant's sac fly made it 8-6.  Greeley fell apart in the fourth walking three and committing three errors as Liberal scored five runs on just one hit.  Wilson Ehrhardt singled home a run.  The inning gave the BJ's an 11-9 lead.  The Bee Jays added two more in the fifth as Bryce Donovan singled home a run and Liberal scored another on an error.  Caeden Trenkle provided an RBI single and Kelby Tomlinson smacked a home run to left center capping off a five run six.
Cory Didier was solid out of the bullpen with three innings allowing one run.  Donovan had three hits.
In game two, Greeley again scored first with a run in the first.  Liberal scored five in the third.  Caeden Trenkle drove home two with a single up the middle.  An error allowed a third run to score.  Wilson Ehrhardt lofted a sac fly to center and Jack Malone singled back up the box to make it 5-1.  Trenkle singled, stole second, and would score on a wild pitch to make it 6-1 in the fourth.  Liberal scored four in the sixth thanks to Wyatt Grant's grand slam to left.
Aaron Funk pitched five strong innings for the win with six strikeouts.  Wilson Shoemaker and Eric Heiman pitched scoreless innings.
Liberal is 19-3 hosts Greeley Tuesday night at 7 at Brent Gould Field.  KSCB and First Southern Baptist Church are the sponsors.  Free Nathan's hot dog, chips, cracker jacks, and drinks to first 100 fans.  Free FSBC cup with peanuts and bubble gum for first 200 fans.  The 2020 Dodge Ram 1500 pickup will be on location.  Bring a 1 dollar bill.  If the first six numbers of the serial number on the dollar bill match the pre-set number, you will win the pick up.  Non winning numbers are donated to the food cupboard.
Game 1 audio, Greeley at Bee Jays:
Game 2 audio, Greeley at Bee Jays: