Bee Jays Strike Late in Blowout Over Denver
Brock Kappelmann - July 2, 2022 10:25 pm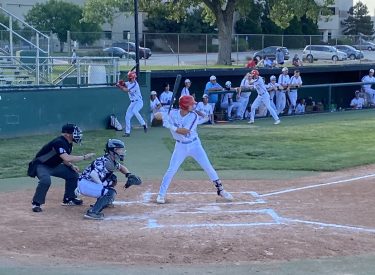 The Liberal Bee Jays shook off what had been a pitcher's duel to score 12 runs in the last four innings to run rule the Denver Cougars 12-2 Saturday night at Brent Gould Field.  The game went eight innings due to the RMBL run rule.  Liberal has won six straight games.
Denver scored a run in the second.  Liberal squandered a few early opportunities with runners on first and second with no outs in the second and the third but failed to score.  Liberal broke through in the fifth.  Jett Brown rolled a single through the right side to lead off the inning.  Brett Atkinson singled through the right side.  Keaton Grady singled over the second baseman for a 1-1 tie.  Zach Yorke singled through the right side for a two RBI single to give the BJ's a 3-1 lead.  Hudson Polk hit a sac fly to make it 4-1.  Keaton Grady reached on an error with two outs in the sixth and would late steal third and score on a wild throw to third.  Zach Yorke singled home a run to make it 6-1.  Denver scored in the seventh to make it 6-2.  Liberal scored six runs in the eighth to win it.  Keaton Grady singled to lead off the inning.  Luke Smith and Zach Yorke walked.  Hudson Polk shot a single up the middle to score a run.  Cooper Hext walked and Jack Arthur was hit by a pitch to score a run.  Ryan Leary singled home two runs.  Jett Brown singled to right center to end it.
Dylan Kerbow went 4 and 2/3 innings with six strikeouts and three walks while allowing one run.  Luke Barbier worked 3 and 1/3 with five strikeouts, three walks, and one run.  Keaton Grady, Zach Yorke, Hudson Polk, Cooper Hext, and Jett Brown had two hits a piece.
Liberal is 15-4 overall and 12-1 in the Rocky Mountain.  Denver is 12-10 overall and 10-9 in the RMBL.  The same two teams play Sunday night at 7pm with the Dugout Show at 6:45 on 1270, 92.3, and The KSCB and The Legend App.  Southwest Roofing is the buyout sponsor.