Bee Jays Strand 14 in Loss at Dodge City
Brock Kappelmann - July 6, 2018 7:26 am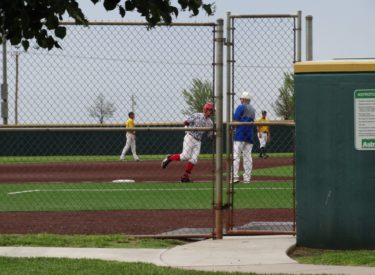 The Liberal Bee Jays found another way to lose Thursday night in Dodge City.  This time is wasn't walks or errors.  It was the dreaded runners left on base.  The Bee Jays left 14 runners on base in the 6-5 loss at Dodge City's Cavalier Field.  The A's win all three over the BJ's at Dodge City.
The Bee Jays actually played much better baseball Thursday in most facets of the game.  They only had one error and walked only three.  That's after 13 errors in the previous three games and 18 walks in the previous two games.
Liberal bolted out to a 4-0 lead with two in the first when Clint Allen singled and would later score.  Sean Arnold returned to the lineup and singled and scored on a bases loaded walk to Jonathan Tapia.  However, the BJ's left the bases loaded.  Arnold unleashed on a ball which he drove over the wall in left center in the second for a 4-0 lead.  But after allowing six in the fourth on Sunday night and five in the fifth on the 4th of July, the Bee Jays allowed six in the fourth on Thursday night.  Starter Payton Bauer didn't make it out of the fourth going 3 and 1/3 innings after he was sharp in the first three innings.  Liberal scored on a Jack Krauel sac fly in the sixth to make it 6-5.  They left two men on without scoring in the seventh and eighth innings.
Josh Zanger went 2 and 2/3 innings scoreless before Ryan Thomas worked two scoreless innings.  In the five games against Dodge City, BJ starting pitchers have worked 2, 1 and 2/3, 3 and 1/3, 4, and 3 and 1/3 innings.  The hits were even in this game at 8-8.  Dodge City made two errors and Liberal committed one error.
Liberal had lost three straight and four of the last five.  They are 13-10 in the Jayhawk and 15-11 overall.  Dodge City is 10-9 in the Jayhawk.  Liberal plays a three game non league series in Augusta against the Kansas Cannons Friday, Saturday, and Sunday at 3 at Rodney Wheeler Stadium.  The games will not air on KSCB as they are non league games.  The next radio game is Monday night at 7 in El Dorado against the Broncos.