Bee Jays Stay Unbeaten with Win in Fort Collins
Brock Kappelmann - June 11, 2022 10:31 pm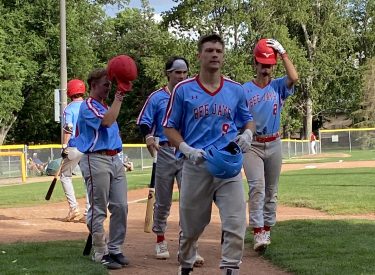 The Liberal Bee Jays are 6-0 after an 18-4 win over the Fort Collins Foxes Saturday night at City Park in Fort Collins.  Liberal scored 18 runs on 20 hits in a seven inning run rule game.
One night after Fort Collins scored six in the first, the Bee Jays scored six in the first.  Keaton Grady doubled to lead off the game.  Gavin Brzozowski singled him home.  Tyce Armstrong walked.  Zach Yorke lined a single to center to make it 2-0.  Caden Hensley doubled home a run.  Cooper Hext lined a two RBI double to right.  Jordan Thompson grounded out to score a run.  Gavin Brzozowski doubled to lead off the second and Caden Hensley doubled him home.  The Foxes scored in the second.  Chance Reisdorph launched a two run home run to left in the third to make it 9-1.  The Foxes scored three against BJ starter Hunter Estill to make it 9-4.  Chance Reisdorph doubled home a run in the fourth for a 10-4 lead.  Liberal led 11-4 after a run in the fifth when Gavin Brzozowski singled home a run.  Liberal scored four in the sixth.  Chance Reisdorph cracked a two run home run to center for his second round tripper of the night and a 13-4 lead.  Gavin Brzozowski and Caden Hensley doubled home runs.  Brzozowski homered to right center in the seventh.  Conner Westenburg added an RBI triple in the inning.
Chance Reisdorph was 5-5 with two homers and Gavin Brzozowski was 5-5 with a homer and two doubles.  Caden Hensley doubled three times.  Luke Barbier went four shutout innings out of the bullpen.
Liberal is 6-0 overall and in the Rocky Mountain Baseball League.  Fort Collins is 1-3.  Liberal doesn't play a league game until June 22nd at home against Hays.  That is the next radio broadcast.  But the Bee Jays play at the Haysville Aviators Monday and Tuesday night at Vulcan Field.