Bee Jays Split at Great Bend
Brock Kappelmann - July 29, 2020 6:46 am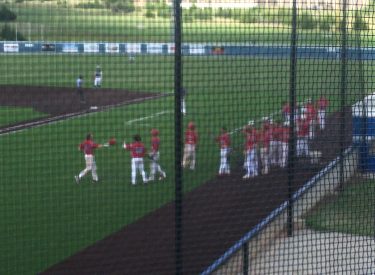 The Liberal Bee Jays split a double header Tuesday afternoon and evening at Lawson-Biggs Field in Great Bend.  The BJ's claimed game one 11-5 before the Bat Cats won game two 5-2.  The games were played On the turf at Barton Community College instead of Al Burns Field due to rain.
The Bee Jays were sloppy defensively in game one as the committed three errors allowing two unearned runs to score.  Liberal scored in the second when Wyatt Grant and Jake Schulz singled and Cody Bigford lifted a sac fly to left.  Nate White singled to lead off the third.  He scored on a Cayde Ward single.  Great Bend scored three in the third against starter Aaron Funk. Two were unearned.  Liberal reclaimed the lead in the fourth when Schulz and Bigford singled with one out.  Jack Malone grounded out to drive home Schulz and Bigford scored on a wild pitch.  Cade Brewer led off the fifth with a towering home run to left for his fourth homer of the season.  It gave the BJ's at 5-3 lead.  The Bat Cats scored in the bottom of the inning to make it 5-4 after five.  Liberal blew the game open in the sixth.  With one out, Schulz and Bigford singled and Malone drove them home with a two RBI double down the right field line.  White singled and stole a base before Ward walked.  Wilson Ehrhardt rolled a two RBI single up the middle for a 9-4 lead.  Liberal scored a tenth run on an error and AJ Folds rolled a single to right for the eleventh run.
Aaron Funk went four innings with four strikeouts, a walk, and one earned run.  Cory Didier went two innings allowing two runs.  Calvin Hunt worked a scoreless seventh.  Schulz was 3-4.  White was 3-5.
Game two came down to the Bat Cats being opportunistic and the Bee Jays weren't.  Liberal left 15 runners on base. Great Bend left two men on.  Liberal scored in the third on a bases loaded walk to Ehrhardt. But they left the bases loaded in the third, fifth, and ninth innings. They had bases loaded one out in the fifth and didn't score.  The Bat Cats scored four in the sixth and one in the eighth. Liberal loaded the bases again in the ninth but only scored on a dropped third strike. Hayden Arnold went 5 and 1/3 allowing three runs with ten strikeouts.  He faced the minimum through five but ran into trouble in the sixth.  Eric Heiman went 1 and 2/3 allowing one run.  Payton Strambler worked one inning and allowed one run. Ward was 4-4 in the loss.
Liberal is 27-6 and Great Bend is 18-19. The same two teams play Wednesday night at Brent Gould Field. Rapid Fit is the buyout sponsor.