Bee Jays Shut Out Monarchs in Hutchinson's House
Brock Kappelmann - August 5, 2020 6:40 am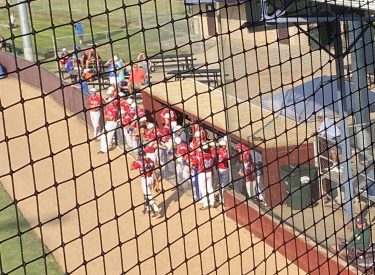 Playing a road game in the NBC World Series, the Liberal Bee Jays turned down the volume of a big crowd there to see the home team win.  Hayden Arnold, Cory Didier, and the Bee Jay defense shut down the Hutchinson Monarchs 2-0 Tuesday night at Hobart-Detter Field in Hutchinson.  Liberal is now 12-5 on the road.  Most importantly, they are 2-0 in the NBC for the first time since 2016.
Arnold said after the game that he didn't even have his best stuff.  But it was good enough for six shutout innings. He struck out six.  Cory Didier worked three scoreless and hitless innings for the save.  The Bee Jays only allowed four hits against the Sunflower Collegiate League champs.
Liberal only had eight hits, but in this case eight was enough.  Cayde Ward singled to lead off the second. Tyler Delong ripped a double off the wall in right.  Aidan Shepardson's sac fly to center gave the Bee Jays a 1-0 lead.  Bryce Donovan and Ward singles to lead off the fourth.  Donovan advanced to third on a Wyatt Grant fly out to right.  Donovan scored on a Delong  sac fly.  Ward finished 3-4 and is 6-7 at the NBC.
The Bee Jays are 30-7 and Hutchinson is 28-7.  Liberal plays the Santa Barbara Foresters Thursday night at 8:30 at Eck Stadium in Wichita.  The game will air on 1270 and kscbnews.net.