Bee Jays Save Best for Last
KSCB News - July 21, 2011 7:25 am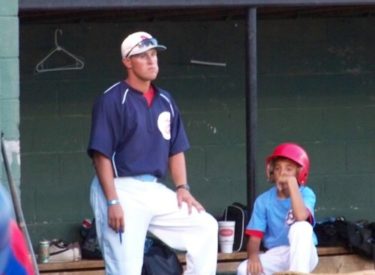 Liberal had the right man up to bat. With the bases loaded and two outs in a 7-7 tie with Hays, Blake Bergeron ripped a three-RBI double down the left field line to give the BJ's a 10-7. Liberal won their Jayhawk League home finale 11-7 over the Hays Larks to move a half game out of first in the Jayhawk.
Hays leaves Brent Gould Field knowing they let one get away committing seven errors. The Bee Jays are down to eight position players and have players in different positions so they had five errors making 10 BJ errors in the series.
Hays jumped on Liberal starter Nick Youpel and scored four in the first. The Bee Jays put up a three spot in the first with three hits and two Lark errors.
The Larks scored one in the third before the the Bee Jays tied the score at five after a two-RBI double to left-center by Greg McCall. Hays took a 7-5 lead with two more runs in the fourth after two BJ errors.
That score stood until the eighth when Hays melted down with two errors leading to six unearned runs. Reagan Pearson's infield hit made it 7-6 and a Ryan Walker walk with the bases loaded tied the game. Bergeron's hit made it 10-7. Reyn Nagamine's hot shot to right made it 11-7.
Robbie Ingram pitched four and one-third innings allowing one earned run with two strikeouts and no walks. Tyler Rockafellow (4-0) pitched two and one-third innings scoreless for his second win of the week. Cale Elam worked a scoreless ninth.
Offensively, Bergeron was 2-4 with three RBI's while McCall was 2-3 with two RBI's.
The Bee Jays are 27-14 overall and 17-13 in the Jayhawk. Hays falls to 24-14 overall and 16-12 in the Jayhawk. Liberal wins six of eight against the Larks this season.
The Bee Jays have just eight position players after a Jake Barrios thumb injury will sideline him for the rest of the summer. They have also lost Richard Bohlken and Riley Good to injuries this summer. They lost Eddie Arroyo for much of the season but he will return next Tuesday. Quay Grant was dismissed from the team. Micah Green is away from the team due to a death in the family.
Liberal plays Saturday, Sunday, and Monday nights in El Dorado at 7 p.m. each night on Talkradio 1270 and kscbnews.net.