Bee Jays Run Rule Valley Center at NBC
KSCB News - August 9, 2009 12:00 am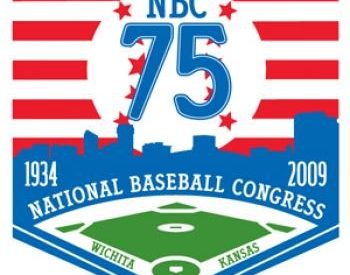 The Liberal Bee Jays shutout the Valley Center Diamond Dawgs 10-0 in five innings Sunday at the NBC World Series for their second rule rule victory in a row.
Bret Davis earned the victory giving up just three hits and striking out five in five innings. Davis improves to 5-1 on the season.
Offensively the Bee Jays were led by Mitch Caster who went 1-2 with 3 RBI's and Justin Gordey who was 3-3 with 2 RBI's. Gordey is now 7-10 with 7 RBI's at the NBC.
Liberal started the game off with four runs in the first inning. They added three in the fourth, and three more in the fifth.
Liberal is now 32-18 on the season and 3-0 in the NBC World Series. They have now outscored their last two NBC opponents 23-0 and have now won two run rule games in a row and are now in the round of six as they are one of just four teams still undefeated at the NBC.
The Bee Jays will play the Conejo (CA) Oaks Monday night at 10 p.m. The game will air on 1270 AM and kscb.net. The Dugout Show will begin at 9:45 p.m. The game could again get started later then scheduled if the games before it are running behind.
Sunday's Other Scores:
Anchorage (AK) Glacier Pilots 15, Orange County (CA) Pioneers 4 (8 innings)
Nevada (MO) Griffons 8, San Diego (CA) Stars 1
Conejo (CA) Oaks 4, Seattle (WA) Studs 3
Santa Barbara (CA) Foresters 10, Sedalia (MO) Bombers 0
El Dorado (KS) Broncos 6, Gunnison (CA) Colts 1
Monday's Schedule:
Crestwood (IL) Panthers v. Southern California Bombers 8:00 AM
Clarinda (IA) A's v. Anchorage (AK) Glacier Pilots 10:30 AM
Derby (KS) Twins v. Game Time (LA) Rockies 1:00 PM
Nevada (MO) Griffons v. Hays (KS) Larks 5:00 PM
Santa Barbara (CA) Foresters v. El Dorado Broncos 7:30 PM
For more information visit www.nbcbaseball.com