Bee Jays Run Rule Moos
Brock Kappelmann - July 25, 2021 7:41 am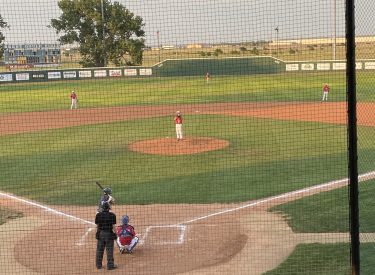 The Liberal Bee Jays have clinched home field in the upcoming best 2 out of 3 series with the Kansas Cannons.  That's after Liberal's 10-0 win over the Wichita Moos coupled with the Cannons 3-2 loss to the Curve.  The Bee Jays won with a run rule Saturday night at Brent Gould Field.
Liberal scored in every inning.  Liberal scored two in the first as Quintt Landis and AJ Folds walked and Wyatt Grant reached on an error which scored  Landis.  Cayde Ward singled home a run for the 2-0 lead.  Liberal scored two in the second.  Cason Gregory and Justin Harris singled.  Quintt Landis walked.  AJ Folds singled home two runs.  Liberal plated a run in the third when Scott Anderson doubled and Aidan Shepardson hit a sac fly.  Liberal scored one in the fourth when Justin Harris singled and Quintt Landis singled before AJ Folds singled home a run.  Liberal scored in the fifth.  Wyatt Grant and Cayde Ward singled.  Aidan Shepardson doubled down the third base line.  The BJ's scored one in the sixth.  Justin Harris singled before Quintt Landis and AJ Folds doubled home a run.  The BJ's scored a run in the seventh.  Scott Anderson singled.  Tyler Boggs was hit by a pitch.  Cason Gregory singled home a run.
Liberal out hit the Moos 16-2.  Ethan Swanson went five sharp innings with 10 strikeouts and one hit.  Jack Chester went two shutout innings with five strikeouts.  AJ  Folds was 3-3 with four RBI's.  Justin Harris was 3-3.
Liberal is 27-6 and 26-5 in the Kansas Collegiate League.  The Moos are 17-19.
Liberal returns to Wichita Sunday to play the Wichita Dirtbags at 7 with the Dugout Show at 6:45 on 1270 and kscbnews.net.