Bee Jays Run Rule Lonestar to End Season
Brock Kappelmann - August 7, 2019 6:46 am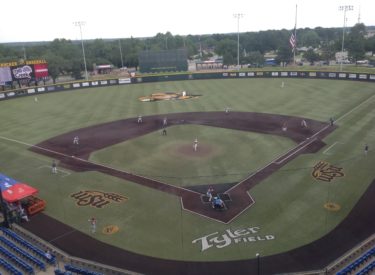 The Liberal Bee Jays capped off their 2019 season with a run rule win Tuesday afternoon at the 85th NBC World Series at Eck Stadium in Wichita.  The Bee Jays beat the winner of their pool Lonestar 10-2 in seven innings.  However, Liberal still misses the bracket portion of Championship Week for a fourth consecutive season.
After scoring two runs total in the first two games, Liberal scored two in the first inning with the pressure off on Tuesday.  Trevor MacDonald singled and Tristan Stacy ripped an RBI triple to right center.  Stacy scored on Connor Emmet's sac fly.  Lonestar tied the game in the top of the fifth.  Liberal reclaimed the lead in the bottom of the inning.  Cayde Ward scored on a wild pitch to give the Bee Jays the 3-2 lead.  The Bee Jays blew the game open in the sixth with six runs.  Stacy singled home a run.  Emmet added another sac fly.  Corbin Truslow and Colton Moore walked with the bases loaded.  Trevor Beard singled home two to make it 9-2.  MacDonald and Emmet singled in the seventh and Payton Strambler ended the season with a line drive double to left for the run rule win.
Tanner King, in his only game as a Bee Jay, went four scoreless innings.  Cole Schoepke, Malachi Crone, and Rafferty Brown all pitched an inning apiece.
Liberal finishes 29-14.