Bee Jays Run Rule Larks
Brock Kappelmann - June 30, 2019 9:01 am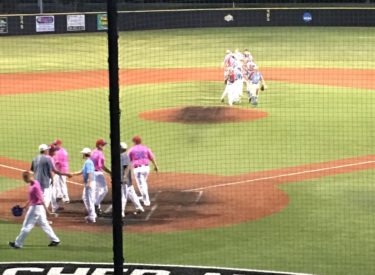 The Liberal Bee Jays evened their series with the Hays Larks Saturday night at Larks Park in Hays.  Liberal won 11-1 in a run rule which was called after seven innings.  The Bee Jays snap their only two game losing streak of the season.
Liberal was solid on the mound.  Trevor Pruitt improves to 2-1 going five strong innings allowing one run.  Trey Goodrich pitched two scoreless innings.
The BJ's scored two in the first.  Tristan Stacy laced a one out triple to right center.  Cayde Ward drove him home.  Brandon Holdren lined a sacrifice fly to left.  Hays scored a run in the second without the ball leaving the infield.  Two walks and an infield single got the Larks on the board.  Liberal scored two more in the third.  Stacey singled to lead off the inning.  Ward lined a double to right center to score the speedy Stacy from first.  Ward scored on a Hays double play.  The Bee Jays broke the 4-1 game open in the seventh when they scored seven runs.  Justin Quinn, Jordan Williams, and Stacy singled to lead off the inning.  Ward walked with the bases loaded.  Liberal scored as Hays turned their third double play of the night to make it 6-1.  But the Bee Jays weren't done.  Shane Sirdashney reached on an error.  Holdren ripped a double to make it 7-1.  Trevor Beard walked and Aiden Shepardson singled.  Quinn lined a three RBI triple to right center to make it 11-1.  Liberal out-hit Hays 13-7.  Hays had three errors and Liberal had one.  The teams combined to turn five double plays as Hays turned three of them.
Liberal is 16-8 overall, 14-8 in the KCLB, and 6-4 in the Jayhawk Division.  Hays is 19-5 overall, 18-4 in the KCLB, and 6-4 in the Jayhawk.  The same two teams play Sunday night at 7 with the Dugout Show at 6:45 on 1270 and kscbnews.net.