Bee Jays Run Rule Dodge City in the Opener
Brock Kappelmann - June 4, 2022 6:31 am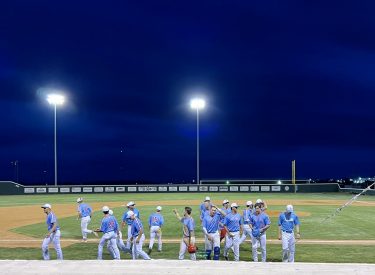 Liberal opened play in the Rocky Mountain Baseball League with a victory.  Liberal dominated the Dodge City A's 11-1 in a seven inning run rule game Friday night at Brent Gould Field.   Liberal built a 6-0 lead after three before a five run seventh to end it.
Liberal out-hit the A's 16-2 and committed the game's only two errors in the win.  Gavin Bryzyowski walked to begin the first before Keaton Grady laced an RBI triple past the diving Dodge City left fielder.  Tyce Armstrong lifted a triple off the center field wall to score Grady.  Jett Brown singled to right for the 3-0 lead.  Bryzyowski doubled in the second.  Luke Smith hit a two run home run off the scoreboard in left center for the 5-0 lead.  Caden Hensley and Chance Reisdorph singled in the third.  Conner Westernburg singled home a run.  Dodge City chased home a run in the fifth.  Liberal ended the game early in the seventh.  Atkinson doubled to lead off the inning.  Westenburg was hit by a pitch.  Keaton Grady singled home a run for the 7-1 lead.  Luke Smith singled.  Tyce Armstrong launched a towering three run home run over the foul pole in left.  Caden Hensley singled and scored on Jett Brown's double down the right field line.
Liberal was dominant on the mound.  Brady LeJeune-DeAcutis tossed four hit less innings with nine strikeouts.  Robert Bonilla went three innings with five strikeouts and one walk.
The Bee Jays win their second straight opener after a 9-1 win over Denver last year and a 9-2 loss a Great Bend two years ago.  The BJ's and A's play Saturday night at 7pm at Cavalier Field in Dodge City.  Pre-game at 6:45 on 1270, 92.3, and The KSCB and The Legend App.