Bee Jays Rout the Rangers
Brock Kappelmann - June 8, 2019 8:43 am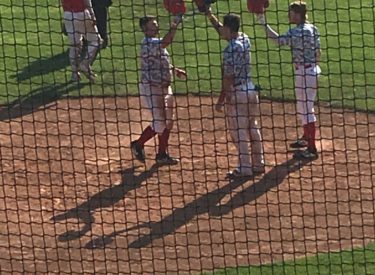 The Liberal Bee Jays enjoyed an emphatic trip back to Kansas Collegiate League play Friday afternoon with a 12-4 win over the Park City Rangers.  The Bee Jays and Rangers played a 4 p.m. game at Word of Life Field in Wichita because someone vandalized the field so there wasn't any electricity.
Riley Bost was strong on the mound going six innings with eight strikeouts and one walk.  He allowed one run.  Trey Goodrich worked one inning striking out the side and JJ Rytz worked two solid innings.
Park City scored first with a Kade Preston home run to left.  Liberal answered in the fourth.  Blake Dickman and Connor Emmet singled with one out.  Cayde Ward singled home a run.  Justin Quinn doubled home a run.  Jordan Williams singled home two runs for the 4-1 lead.  Shane Sirdashney singled home a run in the sixth for the 5-1 lead.  The Rangers chased home a run in the bottom of the sixth to make it 5-2.  The Bee Jays blew the game open in the seventh.  Dickman walked and Emmet doubled to lead off the inning.  Cayde Ward homered to left to make it 8-2.  Aiden Shepardson singled home a run to make it 9-2.  Holdren walked with the bases loaded.  Corbin Truslow hit a sac fly to left to make it 11-2.  Shepardson singled home a run in the eighth to add to the lead.
Emmet went 4-6 while Dickman had three hits.  Ward drove home four runs.
Liberal is 5-1 and 4-1 in the KCLB.  Park City is 1-6 and 1-4 in league.  The same two teams play Saturday afternoon at 4 in Wichita with the game airing on 1270 and kscbnews.net.