Bee Jays Rout A's
Brock Kappelmann - July 18, 2023 6:53 am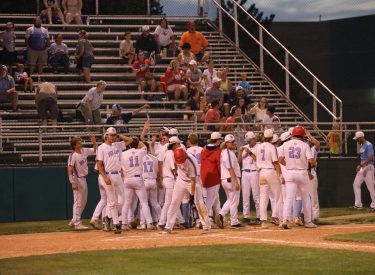 The Bee Jays returned home and returned to their winning ways Monday night at Brent Gould Field.  The Bee Jays beat the Dodge City A's 13-2 in a run rule.  Walker Polk was the Epic Touch Player of the Game going 4-5 with five RBI's, a triple, and two doubles.
The B.J.'s scored in all but one inning.  They scored one in the first when Walker Polk singled home Isaac Webb.  Ethan Calder ripped a solo home run to right center to lead off the second.  Owen May singled to lead off the third and Walker Polk doubled him home for the 3-0 lead.  Dodge City scored in the fourth.  The Bee Jays scored a five in the fourth.  Nick Husovsky singled to lead off the inning.  Coldon Kiser walked.  Isaac Webb singled home a run.  Owen May singled.  Walker Polk ripped a three RBI triple to right.  Mateo Garcia grounded out for the 8-1 lead.  The A's scored a run in the fifth to make it 8-2.  Liberal scored three in sixth to lead 11-2.  Mateo Garcia walked and Justin Hudson singled before Ethan Calder walked.   Garcia scored on a wild pitch.  Nick Husovsky shot a two RBI single up the middle and through the drawn in infield.  In the seventh, Polk doubled again and Mateo Garcia stroked a two run home run to right center to end the game in a run rule.  Liberal out-hit DC 15-5.  Neither team had an error.
Tristan Crusenberry pitched 6 and 1/3 innings allowing two runs on five hits.  Kage Ralstin worked 2/3 scoreless.  In addition to Polk's 4-5 game, Isaac Webb, Owen May, and Nick Husovsky had two hits a piece.
Dodge City is 13-16 overall and 7-10 in the Rocky Mountain.  Liberal is 20-8 overall and 13-5 in the RMBL.  This was the last league game between the two teams.  Liberal travels to Hays to play the first place Larks Tuesday night for a double header beginning at 5:30 with 5:15 Dugout Show on 1270 and 92.3.