Bee Jays Rally to Top Larks in 10
Brock Kappelmann - July 2, 2019 6:45 am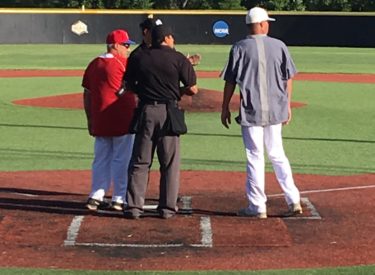 We are right back where we started Friday. The Liberal Bee Jays rallied to defeat the Hays Larks 5-4 in 10 innings Monday night at Larks Park.  The Bee Jays move back into a tie for first with Hays in the Jayhawk division of the Kansas Collegiate League.
Liberal stuck first Monday night.  In the third, Trevor Beard doubled down the right field line.  Aiden Shepardson reached on an error. Jordan Williams grounded out but drove home Beard.  Connor Emmet singled Home Shepardson. Emmet stole second and Williams broke from third to give the Bee Jays a 3-0 lead.  The Larks tallied three in the fifth to tie it.  The runs were unearned and all three came with two outs.  Hays took a 4-3 lead in the seventh. Meanwhile, the Bee Jay bats went silent as Hays retired 14 in a row after the fourth.  But as has been custom in this series, Liberal came to life in the ninth.  Shane Sirdashney and Brandon Holdren walked to lead off the inning.  Justin Quinn failed to lay down a bunt but blooped a Texas Leaguer to center to load the bases with no outs. Shepardson's sac fly to right center tied the game.  In the tenth, Blake Dickman ripped a two out double over the center firlder's head.  Sirdashney singles to center to give Liberal a 5-4 lead.  Trey Goodrich closed it out but the Larks made it interesting. Hays loaded the bases but Goodrich struck out the final batter on a 3-2 count.
Trevor MacDonald went 4 and 2/3 without allowing an earned run.  Jake Reed went 3 and 1/3 allowing one run. Goodrich pitched two scoreless for the win. Goodrich has closed out the Larks four times.
The Bee Jays win the season series was its Hays 5-3 and tie the series at Larks Park 2-2. Liberal is 17-9 overall, 15-9 in the KCLB, and 7-5 in the Jayhawk West.  Hays is 20-6 overall, 19-5 in the KCLB, and 7-5 in the Jayhawk.  Liberal hosts the Dodge City A's Wednesday night at Brent Gould Field. Foss Motor Company is the buyout sponsor. The 7 pm game airs on 1270 with the Dugout Show at 6:45.
Game audio, first five innings:
Game audio, sixth inning to postgame interviews: