Bee Jays Pummel Twins
Brock Kappelmann - July 13, 2017 6:47 am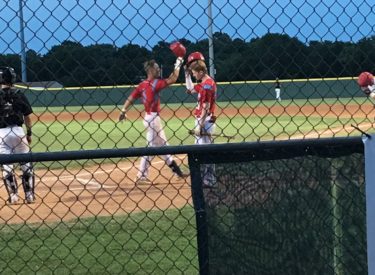 Liberal hit seven homers and banged out 27 hits in a 20-5 win at Derby Wednesday night. The Bee Jays now have 12 homers in he series. Jaron Robinson hit three homers in the game and Zach Cook added two. With the win, the Bee Jays move into a tie for second in the Jayhawk League with Derby.
Cody Wernli pitched five strong innings for the win allowing two runs. Zach Zeller pitched a scoreless inning. Position player Gage Teer went two innings allowing one run. Jaron Robinson pitched 2/3 in the ninth but was ejected from the game after two pitches up and in. Both benches had been warned the previous inning when Derby's pitcher threw up and in. James Hardberger finished off the game.
Liberal scored four in the first. Cale O'Donnell lined a single to center which got by the center fielder to score two runs. Trent Maloney hit a two run homer to left center. Colton Onstott doubled in the third and Robinson homered to make it 6-1.  The Twins scored in the bottom of the inning to make it 6-2.  The Bee Jays homered three times in the fourth for a five run inning. Zac Cook led off with a homer to right. O'Donnell hit a two run homer to center. After Onstott's single, Robinson slugged his second homer of the game for an 11-2 lead. Cook homered again in he fifth to lead offvhe inning. Marcus Shoemaker doubled and Garrett Scott singled before O'Donnell drove drove home a run with a single. Maloney doubled to lead off the sixth before Kyle Schmidt traded places with him. Chad Kennedy singled home another run. In the seventh, Onstott doubled before Robinson's third homer of the game. Kennedy and Shoemaker added RBI singles. Maloney singled home a run in the eighth forceun number 20.
Liberal and Derby are 24-11. Hays is 25-10 and Dodge City is 21-14. The Bee Jays play at the Twins again Thursday night at 7 for their final road game of the season. The game airs on 1270 and kscbnews.net with the Dugout Show at 6:45.