Bee Jays Provide Fireworks Early
Brock Kappelmann - July 5, 2020 8:28 am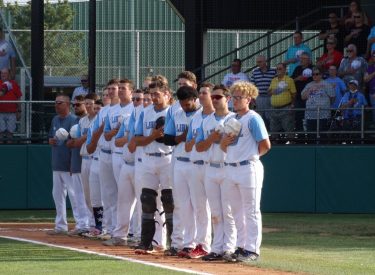 The Liberal Bee Jays scored 10 runs in the first inning on their way to a 19-6 win over the Colorado Springs Outlaws in the 4th of July Game on Saturday.  The game went seven innings due to the run rule and fireworks followed the game.  The Community Bank was a sponsor of the game and the show for a 21st straight year.
Liberal scored 10 in the first as Caeden Trenkle and Kelby Tomlinson led off with singles before Cade Brewer walked.  Cayde Ward singled home a run.  Wyatt Grant blooped an RBI single to right.  Aiden Shepardson singled home a run for the 3-0 lead.  Jake Schulz RBI single made it 4-0.  Trenkle grounded out to score a run.  Brewer blasted a three run homer to left for the 10-0 lead chasing the Colorado Springs ace in the first.  In the fourth, Wilson Ehrhardt doubled off the top of the wall in right to drive home a run and Shepardson hit a sac fly to make it 12-1 after four.   Jack Malone singled home a run in the fifth and the other six runs scored on walks and wild pitches.
Cayde Ward had nine hits in the series and went 3-4. Wilson Ehrhardt had two hits.  Hayden Arnold went four innings and struck out six allowing one run.  Dylan Johnson worked a scoreless inning.
Liberal is 16-2 and Colorado Springs is 9-15.  Liberal plays Monday at the Rocky Mountain Lumberjacks in Lone Tree High School in the Denver area Monday night at 5:30 mountain time and 6:30 central time.