Bee Jays Pour it on Late in Dodge City
Brock Kappelmann - July 9, 2019 7:10 am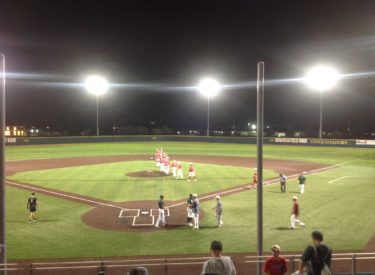 The Liberal Bee Jays stay alive in the race for the Jayhawk Division of the KCLB.  That's after a key 14-6 win at Dodge City against the A's Monday night.  The game went 3.5 hours and ended after 11.
The Bee Jays pieced it together on the mound.  Jon Sotto worked four innings allowing two earned runs.  Riley Bost went four innings.  Trey Goodrich closed it out.
The Bee Jays scored in the first when Connor Emmet doubled off the wall in right center and Cayde Ward singled.  Blake Dickman's drive to center scored Emmet.  However, the Bee Jays struggled early.  The A's scored two in the first thanks to a pair of BJ errors.  Dodge City added two more in the second.  The A's scored two runs on three hits and two walks.  Liberal scored in the third when Dodge City walked two and Shane Sirdashney lofted a double off the top of the wall in left center to score Ward.  Dickman was thrown out at home.  In the fourth, Justin Quinn walked, Aiden Shepardson singled, and Jordan Williams walked.  Quinn scored on a wild pitch to make it 4-3.  Sirdashney blasted a ball over the lights in left for his second homer of the season in the fifth inning to tie the game at 4-4.  The BJ's broke the game open in the sixth.  Trevor Beard singled to lead off the inning.  Shepardson singled with one out.  Williams walked to load the bases.  Connor Emmet bounced a single off the mound scoring one run and another scored on an A's throwing error which went past first.  Ward ripped a single to left to score two runs and make it 8-4.  Beard laced a two RBI double down the right field line.  Dodge scored two in the seventh to make it 10-6.  Liberal plated four in the eighth.  Dickman and Sirdashney walked.  Beard singled one home.  Quinn lined a double to left center to score two.  Shepardson singled.  Liberal scored another run on a wild pitch.
Liberal and Dodge City have evened their season series at 3-3.  The Bee Jays have won two of three in Dodge City and the A's have won two of three in Liberal.  The BJ's are 20-10 overall, 16-10 in the KCLB, and 8-6 in the Jayhawk Division.  Dodge City is 20-10 overall, 16-10 in the KCLB, and 3-7 in the Jayhawk.
Liberal hosts the Boulder Collegians Tuesday night at 7 at the National Beef Family Sports Complex.  Sandcreek Pipeline is the buyout sponsor.