Bee Jays Pop Black Cats
Brock Kappelmann - July 30, 2016 9:39 am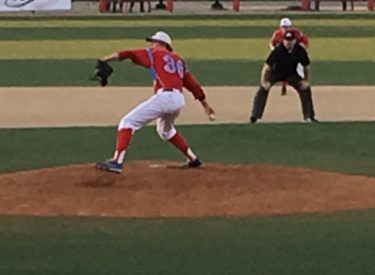 Blake Goldsberry pitches at NBC. Photo by Brady Kappelmann
The Liberal Bee Jays won their opening game at the 82nd NBC World Series 17-1 in five innings over the Laurel, Mississippi Black Cats Friday night at Lawrence-Dumont Stadium.  Liberal is 1-0 in pool play.
Cale O'Donnell made a triumphant return to Wichita with a three run blast over the fence in left center in the first to give the BJ's a 3-0 lead.  It was O'Donnell's seventh of the season.  He hit three  homers for the BJ's at the NBC last year.  Liberal busted through with 12 in the third.  The Bee Jays had some help as the Black Cats allowed just three earned runs and nine unearned runs.  Eleven straight Bee Jays made it on base safely.  Laurel walked seven and hit one batter.  The Black Cats had three errors.  Kyle Knauth tripled to right center in the inning.  Brady Cox and Jaron Robinson singled home runs while Marc Mumper, O'Donnell, and Blake Brewster walked with the bases loaded.  Cox would later triple home three runs in the inning.  Sixteen batters came to the plate as Liberal scored 12 runs on only four hits.  Robinson's two RBI single in the fifth scored two more runs.  Robinson had three hits on the night.  O'Donnell and Cox drove home four runs a piece.
Blake Goldsberry pitched three innings for the win as he improves to 4-2.  Garret Smith and Darin Cook pitched scoreless innings in relief.
Laurel falls to 17-4 and qualifying for the tournament by winning the Magnolia State Tournament and winning the Mississippi Baseball League.  Liberal is 22-22.  They play the Park City Rangers in pool play Sunday night at 7 if the tournament is on schedule.  It will air on 1270 and kscbnews.net.