Bee Jays Outlast Denver in Marathon
Brock Kappelmann - June 21, 2023 12:21 am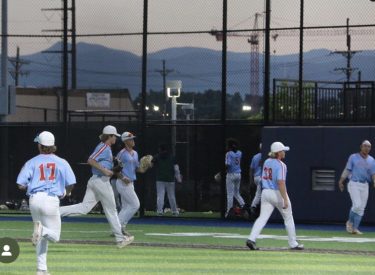 In a game which went 3 hours and 45 minutes, the Liberal Bee Jays rallied from a 7-2 deficit to defeat the Denver Cougars 16-10 Tuesday night at Metro State's Regency Sports Complex in Denver.  The two teams split the two game series.  Liberal out-hit Denver 19-13 and won despite four errors and 10 walks.  Denver pitching also issued 10 walks in the game that ended at about 10:20 mountain time.
Liberal scored two in the first was Denver walked the bases loaded to begin the game.  Derek Lukes was hit by a pitch with the bases loaded.  Ryhota Kusumoto hit a sac fly for the 2-0 lead. Denver scored four runs on two hits and a B.J. error.  Two runs were unearned.  Denver added three runs on three hits and two errors in the seconTd to lead 7-2.  The Bee Jays crept back in the game in the fifth with three runs on three hits.  Walker Polk doubled to lead off the inning.  Derek Lukes walked and Nick Husovsky singled.  Jackson Schofield hit a sac fly.  River Jackson provided a two out, two RBI single to make it 7-5.  The Cougars chased home a fifth inning run to lead 8-5.  Owen May, Isaac Webb, and Walker Polk singled to lead off the sixth.  Derek Lukes singled home two to make it 8-7.  Justin Hudson singled.  With two outs, River Jackson delivered a two out two RBI single to give Liberal the 9-8 lead.  The B.J.'s scored two in the seventh.  Owen May and Hudson Polk singled.  Justin Hudson lined a two RBI ground rule double to left for the 11-8 lead.  Owen May and Isaac Webb set the table again in the eighth with singles.  Walker Polk doubled home a run for the 12-8 lead.  Denver scored two in the eighth to make it 12-10.  In the top of the ninth, Liberal scored four unearned runs.  Walker Polk hit a two RBI double.
Polk was 5-6 with three doubles.  Polk was the Epic Touch Player of the Game.  River Jackson was 3-6 with four RBI's.  Owen May and Justin Hudson added three hits a piece.  Ryder Slatten pitched two shutout innings to close it out.
Denver is 8-6 and 7-5 in the Rocky Mountain Baseball League.  Liberal is 8-3 and 4-1 in the Rock Mountain Baseball League.  Liberal plays at Dodge City Thursday night at 7pm with Bee Jay Dugout Show at 6:45 on 1270 and 92.3.