Bee Jays Outlast Bulls
Brock Kappelmann - July 24, 2016 10:11 am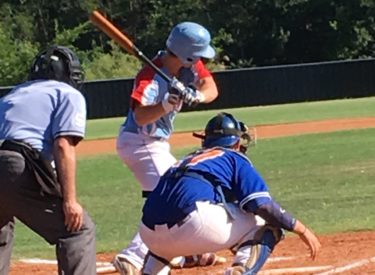 On a day with a heat advisory in affect and a 5 p.m. start, the Liberal Bee Jays overcame 10 walks and two errors to beat Bethany 12-8 at Dolese Park in Bethany on Saturday.  Liberal out-hit the Bulls 14-4 but walked 10 helping the Bulls stay in the game. The game lasted 3 and a half hours.
Liberal scored first against Seward's Landon Vodka.  The BJ's scored on a Brady Cox single.  The Bulls answered with a run in the bottom of the inning against starter Francis Ventura.  The Bulls scored in the third to lead 2-1.  Liberal scored four in the fourth.  Marc Mumper hit a sac fly, Kyle Knauth singled home a run, Cale  O'Donnell whistled a double over the right fielder's head, and Brandon Urquizo scored on a double steal.  Seward's Vodka pitched four innings and did not allow an earned run.  The BJ's lead 6-2 after a run in the fifth when Blake Jenkins singled and scored a run and Cody Bogart singled him home.  The Bulls plated three in the fifth to pull to within one.  Bethany scored two more runs thanks to a BJ error in the sixth to make it 7-6 Bethany after six.  Brady Cox lashed a double off the wall in left center to lead off the seventh.  Blake Brewster singled him home to tie the game at 7-7.  Liberal scored five in the eighth against a leaky Bethany bullpen.  Urquizo led off with a walk and scored on a wild pitch.  Brewster tripled home two runs with a ground ball down the first base line.  Jenkins singled him home.  Bogart hit a sac fly.  The Bulls scored one more in the eighth.
Liberal used five pitchers.  Zach Hansen pitched 2 and 2/3 allowing just one run and Lee Busto worked a perfect ninth.  Those two combined for one of the 10 BJ walks.  Offensively, OU's Brewster was 3-5 with three RBI's.
Liberal is 11-6 in the second half standings and Bethany is 3-14.  The same two teams meet at 3 Sunday.  The pre-game and beginning of the game will air only on kscbnews.net.  It will be joined on 1270 after the Royals game.  But all of the game airs on kscbnews.net.