Bee Jays Out-Slug Colorado Springs
Brock Kappelmann - July 12, 2022 9:10 pm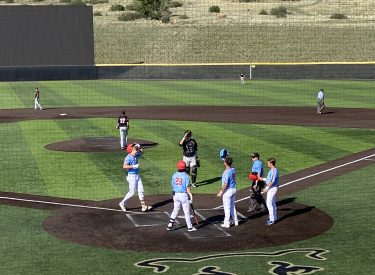 The Liberal Bee Jays had 17 hits and three home runs on the way to a 15-3 run rule win over the Colorado Springs Outlaws Tuesday night at UCCS Mountain Lion Park.  Colorado Springs had 15 hits and one home run.  It marks Liberal's 12th win in a row.  They sweep all five games against the Outlaws this season.
Colorado Springs scored first with a run in the first.  The BJ's scored two in the second.  With two outs, Cooper Hext doubled, Ethan Frey walked and Ryan Leary singled home a run.  Frey scored on a wild pitch.  Liberal opened the game up with a five run third.  Two HBP's and a walk loaded the bases.  Daylan Pena singled home two.  Ethan Frey hit a three run home run to center for the 7-1 lead.  The Outlaws plated two in the third to make it 7-3.  The Bee Jays scored eight runs on 10 hits in the fifth.  Hudson Polk led off the inning with a line drive home run over the left field fence.  Caden Hensley singled and Daylan Pena launched a mammoth home run to center.  Cooper Hext and Ethan Frey singled.  Ryan Leary lined a two RBI double down the left field line. Hudson Polk, Caden Hensley, and Daylan Pena added singles.
Daylan Pena was 3-4 with four RBI's.  Gavin Brzozowski was 3-5 with a triple.  Hudson Polk, Ethan Frey, Caden Hensley, Cooper Hext, and Ryan Leary added tow hits a piece.  Brady Le Jeune De Actis went four innings with seven strikeouts.  Dylan Kerbow pitched three shutout innings with five strikeouts.
Liberal is 21-4 overall and 16-1 in the Rocky Mountain.  Colorado Springs is 11-18 and 8-16 in the RMBL.  Liberal plays at the Denver Cougars in Wheat Ridge Wednesday at 5:30pm CST with 5:15 pre-game on 1270, 92.3, and The KSCB and The Legend App.