Bee Jays Out Last Mud Daubers
Brock Kappelmann - June 25, 2021 7:16 am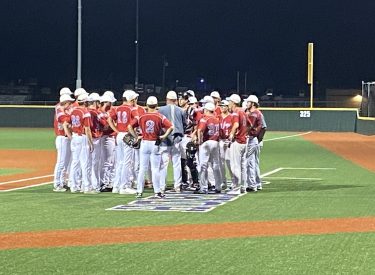 In a game which went over three and a half hours and featured 15 walks and four beanballs, the Liberal Bee Jays prevailed 17-8 in Valley Center against the Mud Daubers Thursday night in Valley Center.  Liberal remains undefeated in the Jayhawk division.
A pitcher's dual ensued early as the game was scoreless until the fifth when the Bee Jays scored two.  Ryan Proctor and Cason Gregory singled and Quintt Landis drove them home with a two RBI single.  The Mud Daubers responded with three in the bottom of the fifth after the first two men were retired.  Then Liberal committed an error and walked two leading to a three RBI double.  The Daubers added one in the sixth to lead 4-2 after six.  Liberal got to the Valley Center bullpen with three in the seventh.  Justin Harris blooped a double to left center to make it 4-3.  AJ Folds singled home the tying run.  Scott Anderson would single and Blaine Thomas walked with the bases loaded for the 5-4.  Valley scored two in the bottom of the seventh to lead 6-5.  Liberal began the eighth with a walk and a beanball leading to a Quintt Landis RBI single to tie the game 6-6.  After and error, the Mud Daubers were unable to run under a Scott Anderson Texas Leaguer as the BJ's vaulted ahead 7-6.  Blaine Thomas hit a line drive barely above the second baseman's glove for a two RBI single and a 9-6 lead.  Ryan Proctor rolled a two RBI single up the middle for an 11-6 lead.  Valley Center hit a two run homer in the bottom of the eighth to make it 11-8.  Liberal scored six in the ninth to blow the game open.  An error began the inning as Valley Center committed four errors in the game.  Landis tripled home a run.  Folds singled home a run and Anderson singled.  Wyatt Grant lined a three run home run to center.
Liberal scored 12 runs in the last two innings and 15 in the last three innings against the Valley Center bullpen.  Liberal out hit the Daubers 18-7.  Liberal pitching walked eight and Valley Center walked seven.
Braxton Hyde pitched 4 and 2/3 and did not allow an earned run.  Jack Hagan went 2 and 2/3 and struck out six and did not issue a walk.  Scott Anderson was 4-6.  Quintt Landis was 3-6 with a triple and a double.
Liberal is 12-2 overall and 7-0 in the Jayhawk Division of the Kansas Collegiate League.  Valley Center is 7-7 overall and 5-4 in the division.  Liberal plays at Wellington Friday night.