Bee Jays One Hit Wonders in Derby
Brock Kappelmann - July 23, 2020 6:37 am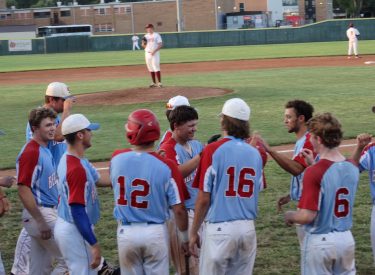 Hayden Arnold and Kyle Duffey combined to spin a one hitter at Derby Wednesday night. The Liberal Bee Jays had more than enough offense too in a 12-1 run rule win over the Derby Twins.  The game went seven innings.
It was a pitcher's dual early but the BJ's chased home a run in the second.  Wyatt Grant and Bryce Donovan singled before Aidan Shepardson dumped an RBI single to left center.  Derby tied the game with a homer in the bottom of the third for their only hit of the night.  Liberal scored four in the fifth.  Jack Malone and Wilson Ehrhardt singled ahead of Cayde Ward's three run home run.  Wyatt Grant made it back to back jacks with a home run off Seward teammate Joe Wolf. Liberal plated five in the sixth. Derby beaned two and walked two in the inning. Cody Bigford's single was one of two hits in the inning.  The other was Donovan's grand slam over the center field wall.  That gave the Bee Jays a 10-1 lead.  The Bee Jays scored two more in the seventh as Derby beaned two and walked three.
Cayde Ward drove home four more runs giving him 9 RBI's in the two game series.  Wyatt Grant, Bryce Donovan, and Aidan Shepardson has two hits a piece.  Hayden Arnold is 6-0 after working five innings with six strikeouts and one walk.  Kyle Duffey struck out five in two scoreless and hitless innings.
Liberal is 24-5 and Derby is 11-18.  The Bee Jays are 7-1 against the Sunflower Collegiate League. The Bee Jays host the Liberal Rattlers Thursday night at 7 at Brent Gould Field.  It's Liberal's 18u team but has added former and current college players for around the area.  Kelby Tomlinson will play for them as well.  Dugout Show at 6:45 on 1270 and kscbnews.net.