Bee Jays Make Quick Work of Moos
Brock Kappelmann - June 13, 2021 8:16 am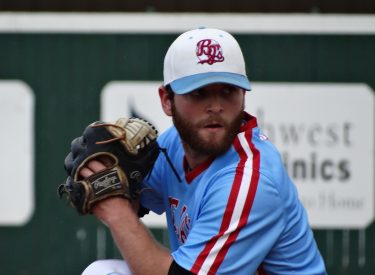 In a game which lasted about two hours, the Liberal Bee Jays run ruled the Wichita Moos 10-0 in seven innings Saturday night at Brent Gould Field.  The Bee Jays even the series with the Moos at 1-1 with the rubber game Sunday night at Brent Gould Field.
The Bee Jays got off to a much better start than in their previous two games.  Liberal scored four runs n the first.  Quintt Landis singled.  With two outs, he scored on Cayde Ward's line drive single to left center.  Aidan Shepardson singled.  Ryan Proctor drilled a two RBI triple off the wall in left center.  Cason Gregory dropped in an RBI single to center for the 4-0 lead.  Landis doubled with one out in the second and scored on AJ Folds single in the second inning for the 5-0 lead.  in the fourth, Elijah McCarter walked and stole second to lead off the fourth.   With two outs, Wyatt Grant rolled an RBI double down the third base line.  Ward was beaned.  Shepardson singled home a run and Ward scored on a wild pitch for the 8-0 lead after four.  The Moos walked two of the first three BJ hitters in the fifth.  Landis laid down a bunt.  AJ Folds singled home two.
The Bee Jays were very good on the mound Saturday night.  Ethan Swanson went four innings with four strikeouts.  Jack Hagan went three scoreless innings with five strikouts.  Liberal out hit the Moos 13-3.  The BJ's scored nine of their 10 runs with two outs.
Liberal is 5-1 and Wichita is 5-4.  The same two teams meet Sunday night at 7 at Brent Gould Field.  Equity Bank is the buyout sponsor.  The game airs on 1270 and kscbnews.net with the Dugout Show at 6:45.