Bee Jays Lower Boom on Cannons
Brock Kappelmann - July 8, 2018 8:36 am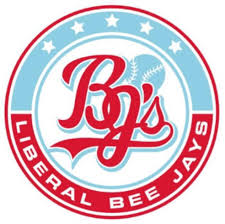 The Liberal Bee Jays evened their three game series with the Kansas Cannons 1-1.  The Bee Jays beat the Cannons 12-5 Saturday afternoon at Rodney Wheeler Stadium in Augusta.  Liberal snaps their four game losing streak.
Liberal scored in each of their five first innings.  The Cannons scored in their first four innings.  Liberal scored two in the first as the Cannons scored one.  Liberal had two more in the second but the Cannons scored two for a 4-3 BJ lead after two.  The BJ's had one in the third and the Cannons scored one more for a 5-4 BJ lead.  Liberal got four in the fourth and the Cannons got one for a 9-5 BJ lead.  Liberal added one in the fifth and finally held down the team from Augusta as they did not score after the fourth.  Liberal scored two in the eighth.  Liberal out-hit the Cannons 15-5 and both teams made one error.
Dane Simon was 3-5 with three runs and a triple while Peyton Johnson was 3-4 with four RBI's.  Justin Marino was 2-4.  Dylan Paul was 2-5 with two doubles.
Cole Evans returned to the mound and went three innings allowing four runs.  Boone Montgomery went four innings allowing one run.  Christian Isenhour pitched a scoreless inning and Zach Zeller went a scoreless inning to close it out.
The Bee Jays are 16-12 and play the Cannons Sunday at 3 in Augusta.