Bee Jays Lose NBC Opener
Brock Kappelmann - July 28, 2018 8:02 am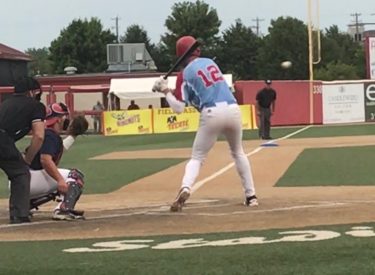 The Liberal Bee Jays dropped their opening game at the 84th NBC World Series Friday night. Liberal, who has won five NBC championships and took third in the Jayhawk League, list unexpectedly to Wichita based 316 Elite. It's a group of 18 and under players who have signed to play at many of the top junior college programs in the state. They beat the Bee Jays 9-3 dropping Liberal to 0-1 in pool play.
There were ominous signs early on as the 316 Elite pitcher stuck out the side in the first. A Bee Jay team which led the Jayhawk League in hitting mustered only five hits. Meanwhile the Bee Jays were shaky on the mound as starter Zach Zeller walked four and beaned two in 2 and 2/3. He allowed six runs when 316 Elite score six runs on four hits, two walks, and an error in the third. The Bee Jays, wh have overcome large deficits throughout the summer, made it 6-2 mid seventh.  Dylan Paul ripped an RBI double to right and in the seventh Brett Vosik singled home a run. 316 RBI scores in the bottom of the seventh to lead 7-2.  316 Elite added two more in the eighth and Tom Lichty singled home a run for the BJ's incur ninth. 316 Elite out hit Liberal 10-5. Liberal had three errors compared to 316 Elite's one error.
Newcomer from the Great Bend Bat Cats Nolan Riley was a bright spot for the Bee Jays. He pitched 3 and 1/3 scoreless innings.
Liberal is 24-18 and 316 Elite is 38-5. The Bee Jays play the Denver Cougars from the Rocky Mountain Collegiate League Sunday at 1:30. The Cougars lost to the San Antonio Angels 10-7. The game airs on 1270 and kscbnews.net.