Bee Jays Leave KCLB for Rocky Mountain League
Brock Kappelmann - October 11, 2021 9:33 am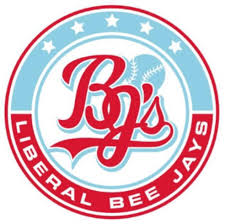 The Liberal Bee Jays are leaving the Kansas Collegiate League for the Rocky Mountain Collegiate Baseball League.  They will play in their new league in 2022.  The Bee Jays leave the Kansas Collegiate League after playing in the league for two seasons.
The Bee Jays make the move hand in hand with the Dodge City A's who are also leaving the KCLB for the Colorado based league.  The Bee Jays and A's will join their longtime rival Hays Larks in the league.  The Larks played with Liberal and Dodge City in the KCLB in 2019 before leaving for the Rocky Mountain League where they played in 2020 and 2021.
The Bee Jays will join the Dodge City A's, Hays Larks, Denver Cougars, Gameday Saints, Colorado Sox, Colorado Springs Outlaws, Fort Collins Foxes, and Colorado Roughnecks.  That makes nine teams which will play each other four times each.
The Bee Jays played in the Jayhawk League from 1976-2018.  The league folded after the 2018 season when multiple Wichita area teams left to join the Sunflower League.  The Bee Jays won the KCLB in 2019 and 2021.  The Bee Jays played as an independent in 2020 when the KCLB did not have a season.
The KCLB dropped out of the NBC before the 2021 season and played at a tournament in Goddard instead.  The Bee Jays won the league and made the NBC as an at large team.