Bee Jays Lasso Larks
KSCB News - July 6, 2014 7:53 am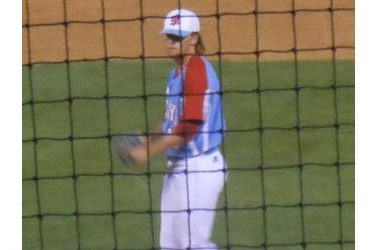 The Liberal Bee Jays put together a complete game in a 6-4 win over the Hays Larks Saturday night at Brent Gould Field. The BJ's out-hit Hays 11-7 and committed just one error in the loss.
Liberal scored first when they plated a run in the second. Zach Hoffman doubled off the wall in left center, Mike Rampone singled, and Hoffman scored when Justin McCarty bounced to second. Liberal added a run in the third when Alec Isaac whistled a triple down the right field line and scored in Kyle Lieser's sacrifice fly. Hays scored against BJ starter Ray Ashford in the fourth to make it 2-1 BJ's. Liberal scored two in the bottom of the fourth to lead 4-1 thanks to RBI singles by McCarty and Robert Dugger. After two Ashford walks in the fifth, Nick Jones entered the game and Hays' Ty Detmer launched a ball over the scoreboard in left center to tie the game a 4-4. The BJ's took the lead in the sixth when Dugger lofted a two out RBI double to center to score Haberstroh who had singled. The BJ's added insurance in the eighth wihth an unearned run when Cody Erickson hit a sacrifice fly to center.
Ray Ashford pitched 4.1 innings in a no decision. Nick Jones went 2.2 innings for the win while allowing one run. Blake Rogers pitched two scoreless innings for his second save. He struck out the final five men he faced. Bryan Haberstroh led the BJ offense going 3-4. Dugger was 2-3 with three RBI's. Rampone was 2-4.
Liberal is 15-13 overall and 9-13 in the Jayhawk. Hays is 16-10 overall and 12-10 in the Jayhawk. The same two teams meet Sunday night at 7 at Brent Gould Field on 1270 and kscbnews.net. National Beef is the buyout sponsor and will cook free hamburgers for the crowd.
In the Jayhawk Saturday night, Wellington beat Derby 8-5 in Derby.
Wellington 19-3
Derby 13-7
Hays 12-10
Liberal 9-13
El Dorado 6-15
Dodge City 6-17