Bee Jays Keep KCLB Title Hopes Alive with Wild Win at Dodge City
Brock Kappelmann - July 18, 2019 7:16 am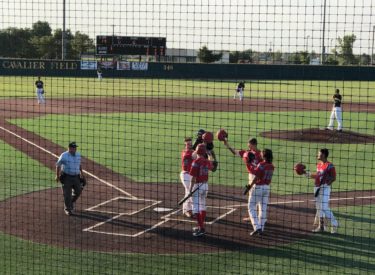 The Liberal Bee Jays coughed up the 10-0 lead but rallied to defeat the Dodge City A's 13-12 Wednesday night at Cavalier Field in Dodge City.  Liberal can win the Jayhawk Division of the Kansas Collegiate League with a win over Dodge City Thursday night at Brent Gould Field.
The Bee Jays struck for five in the first.  Cayde Ward slammed a three run homer in the first.  Aiden Shepardson singled up the middle to make it 4-0.  Trevor MacDonald walked with the bases loaded as Dodge City walked four hitters in the first.  The BJ's plated four in the second for a 9-0 lead.  Connor Emmet ripped a double to right center to lead off the inning.  Ward singled.  Shane Sirdashney singled home a run.  Trevor Beard doubled home two runs with a shot off the wall in left.  Shepardson singled and Jordan Williams hit a sac fly.  Ward homered over the left field wall with two outs in the third for the 10-0 lead.  Dodge City scored one in the third against starter Riley Bost.  Dodge City scored eight in the fourth as Liberal walked five and committed an error.  Dodge City's Owen Jansen hit a grand slam to make it 10-9.  Shepardson's solo homer to left gave Liberal the 11-9 lead in the sixth.  But Dodge scored three in the bottom of the inning to lead 12-11.  Ward singled and Sirdashney doubled to lead off the seventh.  Beard's line drive sac fly to center drove home Ward to tie it.  MacDonald legged out a double on a line drive to center in the eighth to score Williams and give the BJ's a 13-12 lead.  The bullpen did he rest.  Trey Goodrich went 2 and 2/3 scoreless with four strikeouts and no walks.  Jake Reed worked a scoreless ninth for the save. Liberal out hit the A's 16-8.  Both teams had one error.
Liberal is 25-12 overall, 19-12 in the KCLB, and 9-6 in the Jayhawk Division.  Dodge City is 22-14 overall, 17-14 in the KCLB, and 4-11 in the Jayhawk.  The same two teams meet Thursday night at 7 at Brent Gould Field.  Southwest Medical Center is the buyout sponsor.  The Dugout Show begins at 6:45 on 1270 and kscbnews.net.  The Carlile Fan of the Year and BJ MVP will be announced before the game.  If Liberal wins, they win the division and will play the Kansas Cannons at a date to be announced for the league title.  If Dodge City wins, Hays win the division and Liberal will play in the KCLB Tournament Saturday in Augusta.