Bee Jays Hold On in El Dorado
Brock Kappelmann - June 26, 2017 6:38 am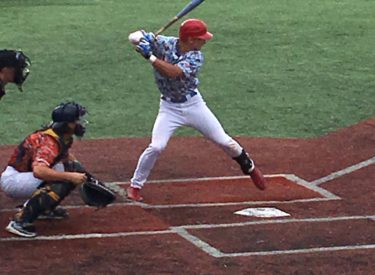 The stretch of 12 of 15 on the road is over and the Liberal Bee Jays not only survived but thrived. The BJ's beat El Dorado 10-7 Sunday night at McDonald Stadium in El Dorado. During the stretch of 12 of 15 on the road which began June 9 in Hays, they went 12-2. They have now won 13 of their last 15.
Jake Harrison made it 4 and 1/3 but had control issues walking four in a no decision. Zach Zeller went 2 and 2/3 scoreless. Cale O'Donnell pitched 2/3 scoreless before leaving with a lower back injury. Chance Carner pitched 1/3 to finish it off.
Liberal scored three in the first as O'Donnell singled, Jaron Robinson grounded out to score a run, and Brenon Rhodes singled home a run. Liberal added two in the second when Trent Maloney singled home a run and O'Donnell grounded out to score a run for a 5-0 lead. The Broncos scored one in the second. Liberal added a run in he third as Rhodes doubled home a run. The Broncos played two in the fifth and chased Harrison to make it 6-3. Garrett Scott doubled in the sixth to make it 7-3 and Chad Kennedy singled home a run in the seventh for an 8-3 lead. The Broncos unexpectedly touched off Derek Craft for four in the eighth to make it 8-7. The Broncos would have tied the game if not for left fielder Nate Crossman throwing out a runner trying to score on a bad hit to left. The Bee Jays added insurance  in the ninth as Rhodes launched a homer to left. Caleb Ward tripled and scored on an error.
Liberal is 15-4 and El Dorado is 8-12. Liberal has Monday off and plays the next eight at home. Tuesday they host the Haysville Aviators at 7 with the Dugout Show at 6:45 on 1270 and kscbnews.net. Electric Motor Service is the buyout sponsor and will be giving away four tickets and a parking pass to a Chiefs pre-season game. Plus they will give away Bee Jay t shirts.