Bee Jays Hold Off Cannons
Brock Kappelmann - July 29, 2021 7:14 am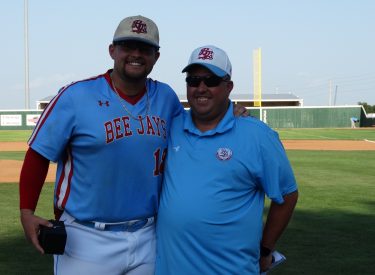 The Liberal Bee Jays were stifling on the mound and saw the Kansas Cannons make enough defensive mistakes to pave the way for a 5-1  Bee Jay win over the visiting Cannons Wednesday night at Brent Gould Field.  This was considered game one of the Kansas Collegiate League Championship Series.
Jack Hagan pitched five scoreless innings with six strikeouts and two walks.  Cole Hillier went four innings with seven strikeouts.  The only Cannon run reached on a dropped third strike.
Tyler Boggs ripped a double off the top of the left field wall to lead off the second.  He tagged from second and went to third on a pop up along the first base fence.  The wild throw from first allowed Boggs to score on an error.  Liberal scored two runs with two outs in the third.  Cayde Ward and Scott Anderson singled with two outs in the third.  Aidan Shepardson singled home a run and Scott Anderson scored on a wild pitch.  The Cannons scored their run in the sixth.  Liberal scored two unearned runs in the seventh.  There were two errors in the inning.  Cayde Ward singled home a run and Quintt Landis scored on a wild pitch.
Liberal had five runs on nine hits while the Cannons had one run on five hits and three errors.
Liberal is 28-6 and the Cannons are 24-18.  In their correspondence with the league, the Bee Jays believe game two should be Thursday night at 7 at Brent Gould Field.  However, the Cannons indicated they were headed back to Augusta after the game and thought the series should be in Augusta.  If the series is over, the BJ's will await word from the NBC to see if they make the tournament as an at large team.  The 87th NBC World Series begins Wednesday in Hutchinson.
Before the game, Cayde Ward was named the Bee Jay player of the year as voted by his teammates.  Jim Odom and Carl Sappelsa were named winners of the Carlile Fan of the Year.  Host families were recognized before the game and SCCC presented the Jayhawk West Player of the Year award to Wyatt Grant.