Bee Jays Hold Off Angels for 14th Straight Win
Brock Kappelmann - July 15, 2022 12:34 am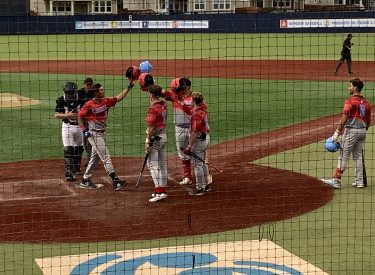 The Liberal Bee Jays won their 14th straight game Thursday night with a 9-5 win over the Gameday Angels at Double Angel Ballpark in Parker.  Liberal beat a solid Angels team who had been 9-3 at home.  The BJ's won despite walking 12 batters.
Liberal scored two in the first after Gavin Brzozowski singled to lead off the game and Keaton Gray walked.  Zach Yorke scored them both with a two RBI double off the wall in center.  The Angels scored two in the first after four walks and one error.  Liberal plated two in the second after Cooper Hext singled and Gavin Brzozowski drilled a two run home run to left center for a 4-2 BJ lead.  Liberal scored one in the third.  Hudson Polk walked and Caden Hensley singled.  Tyce Armstrong singled home courtesy runner Conner Westenburg for the 5-2 lead.  Hudson Polk led off the fifth with a walk and stole two bases.  He scored on Tyce Armstrong's single.  The Angels scored in the fourth to make it 6-3.  Tyce Armstrong doubled home a run in the fifth for a 7-3 lead.  The Angels scored in the fifth to make the score 7-4.  Keaton Grady tripled to right with one out in the sixth and scored on Daylan Pena's single for an 8-4 lead.  The Angels scored in the bottom of the 7th to make it 8-5.  In the eighth, Daylan Pena walked and scored on Zach Yorke's "Texas Leaguer" to left center.
Gavin Brzozowski was 3-5.  Zach Yorke was 2-5 with three RBI's.  Tyce Armstrong was 2-5 with two RBI's.  Caden Hensley was 2-5.  Sean Brady started the game and pitched four innings allowing three runs.  Robert Bonilla went three innings allowing one earned run.  Colby Diduch pitched two shutout innings with five strikeouts.
Liberal is 23-4 overall and 18-1 in the Rocky Mountain League.  The Angels are 11-10.  The same two teams play Friday night at 8pm CST with pre-game at 7:45 on 1270, 92.3, and The KSCB and The Legend App.