Bee Jays Hit the Wall in Win
KSCB News - July 23, 2011 11:55 pm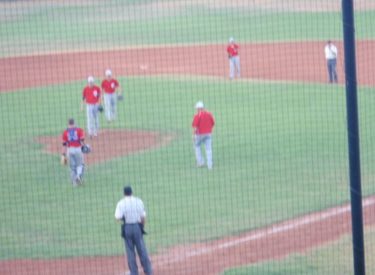 Ryan Walker proved he would run up against a rock hard wall in late July in 100 degrees to help his team win. The BJ right fielder did just that. With the BJ's clinging to a 4-3 lead, El Dorado's Caden Cleveland clubbed a ball to deep right center. Walker made a diving catch and crashed against the wall to help hold the Broncos in check in an 8-3 BJ win Saturday night in El Dorado.
The BJ pitching staff struck out 15 in the win. Josh Smith (5-2) pitched five and 2/3 innings allowing three runs and striking out 10. He was backed up by Brent Harrison who pitched 2/3 scoreless before Richard Olson went an inning scoreless and Cale Elam went two scoreless innings for his seventh save.
Liberal scored in the first when Walker raked a triple to left-center and Blake Bergeron drove him home. El Dorado scored two in the first but the BJ's tied it in the second when pitcher Kasey Merck playing designated hitter for the second straight game, hit an RBI ground rule double to left center. Walker singled and would score on a wild pitch in the third to make it 3-2 before the Broncos tied it in the fourth.
Reyn Nagamine's RBI triple to center in the fifth with two outs made it 4-3 BJ's.
Liberal blew it open in the ninth with four runs on five hits. Greg McCall doubled to lead off the inning before singles by Reagan Pearson, Ross Kivett, Ryan Walker, and an RBI by Bergeron. Kivett and Walker drove home runs with their singles.
Walker was 4-5 with an RBI and the great catch in right center. Kasey Merck ws 3-4 with an RBI. Ross Kivett had two hits.
Liberal was 3-1 this week with eight position players. The Bee Jays are 18-13 in the Jayhawk and 28-14 overall. El Dorado, who will likely miss the NBC World Series for the first time in 25 years. The Broncos are 16-26 overall and 9-20 in the league.
Elsewhere in the Jayhawk, Derby won 8-1 at Hays and Haysville claimed a 6-3 win in Haysville over Dodge City.
Standings
Haysville 18-12
Liberal 18-13
Derby 17-13
Hays 17-13
Dodge City 11-19
El Dorado 9-20