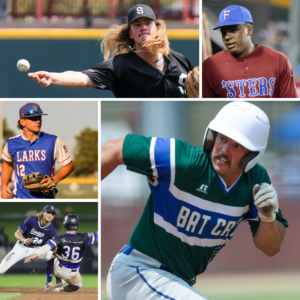 The National Baseball Congress World Series, powered by Evergy, kicks off at Wichita State's Eck Stadium on Thursday, August 3rd for the 89th NBC World Series. Welcoming 16 teams from across the country for the 89th playing, the NBC World Series has been held in Wichita every year since 1935.
2023 NBC World Series Pool Play
The first six days of the NBC World Series will be pool play, with four pools of four teams. Three teams from each pool will advance to single elimination play, which starts on Wednesday, August 9th.
Pool A

Denver, CO Cougars

Jayhawk League TBD

Lonestar, TX Baseball Club

Sedgwick County Blues

Pool B

Great Bend, KS Bat Cats

Lonestar, TX Kraken

Sandlot Tulsa, OK

Santa Barbara, CA Foresters

Pool C

Arlington, TX Baptist

Liberal, KS Bee Jays

Metro Summer Collegiate League

Seattle, WA Studs

Pool D

GPS, TX Legends

Hays, KS Larks

Jayhawk League TBD

Seattle, WA Blackfins
Pools A & C will play Thursday/Saturday/Monday
Pools B & D will play Friday/Sunday/Tuesday
The 2023 tournament will kick off at noon on Thursday, August 3rd with a matchup between Arlington, TX Baptist and Metro Summer Collegiate League, followed by the SC Blues vs. Lonestar Baseball Club at 3:00pm, and then the Liberal Bee Jays and Seattle Studs in the 6:00pm feature game. The Denver Cougars and a representative of the Jayhawk League (TBD) will play at 8:30pm.
On Friday, August 4th, the Great Bend Bat Cats will play Sandlot Tulsa at noon, followed by the Sedgwick County Blues vs. Lonestar Baseball Club at 3:00pm, and the Hays Larks facing the Jayhawk League's at-large entry (TBD) for the feature game at 6:00pm. The Lonestar Kraken will face the defending champion Santa Barbara Foresters at 8:30pm Friday.
Tickets start at $10 for general admission, or $15 for reserved seating, and tickets are good for the full day's slate of games. They can be purchased online at nbcbaseball.com or at the Eck Stadium Box Office on game days.
Bracket play will start on Wednesday, August 9th, with the top team from each pool receiving a bye. Quarterfinals will be played on August 10th, Semi-Finals at 6:00pm and 8:30pm on August 11th, and first pitch on August 12th's Championship Night will be at 7:00pm. All games will be played at Wichita State University's Eck Stadium.
The NBC World Series will pay out $69,000 in total cash compensation for the top eight teams. The breakdown of compensation is:
1st – $18,000
2nd – $15,000
3rd – $9,000 – two teams
5th – $5,000 – two teams
7th – $4,000 – two teams
Information on streaming, the NBC World Series app, radio broadcasts and live stats can be found on nbcbaseball.com as the tournament begins.
About the NBC World Series:
First played in 1935, the NBC World Series is one of the oldest continuously held sporting events in the United States. Since 2020, the tournament is owned and operated by the Wichita Sports Commission. To learn more visit www.nbcbaseball.comI'm