Bee Jays Hammer Haysville
Brock Kappelmann - June 14, 2017 6:29 am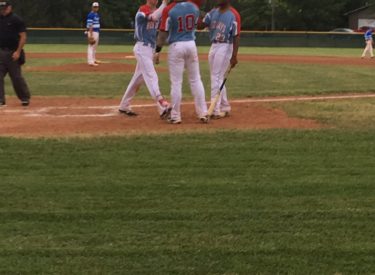 So this is what happens when the wind blows out. After playing their first eight games with the wind blowing in, the wind was howling out with gusts up to 40 miles per hour Tuesday night in Haysville. Liberal was the hammer and the Haysville Aviators were the nail as the Bee Jays won 21-6 at Haysville's Vulcan Field.
Starting pitcher Cole Jenkins got it done on the mound pitching seven innings allowing one run and issuing only one walk. Caleb Ward pitched a scoreless ninth.
Offensively, everyone in powder blue and red was happy. Fourteen different BJ's had hits. Liberal banged out 13 extra base hits, three homeruns, and 25 hits.
Jaron Robinson tripled to Center to lead off the second before Trent Maloney doubled him home. Austin Ott lined a two run homer over the left field fence. Zac Cook's fourth inning sac fly made it 3-1. Cale O'Donnell singled and an ensuing error allowed a run.  Colton Onstott singled home the fifth run.  Maloney blasted a three run homer to left for an 8-1 lead and a six run inning. In the fifth, Cook doubled, Garrett Scott doubled home two, and Onstott doubled home a run for an 11-1 lead. Liberal scored three in the seventh as Kyle Schmidt doubled home a run and Brenon Rhodes singled home two. The BJ's couldn't avoid scoring in the eighth as Chad Kennedy hit a three run homer to left against his former team. Lowell Schipper doubled home a run and Rhodes singled home a run. The Bee Jays finished the night with three more runs. O'Donnell doubled home two and Schmidt doubled home a run.
Liberal has won three straight and is 6-3 and the Aviators have lost three straight and are 5-5. The same two teams meet Wednesday night at 7 in Haysville on 1270 and kscbnews.net.