Bee Jays Go Deep to Dump Dirtbags
Brock Kappelmann - July 3, 2021 7:13 am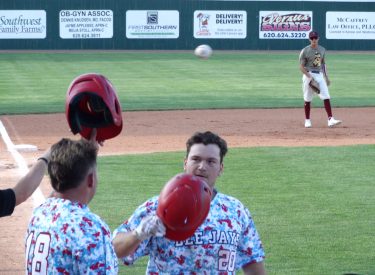 The Liberal Bee Jays cranked two 3 run home runs to run rule the Wichita Dirtbags 12-2 Friday night at Brent Gould Field.  It ended a very slow stretch in which the Bee Jays only played four games in 12 days.  They began a period Friday night in which they will play 12 games in 13 days.
BJ starting pitcher Ethan Swanson wiggled out of a bases loaded jam in the first striking out the side.  In fact, his first seven outs were via the strikeout.  After two walks, Scott Anderson blasted a three run home run to left to give the Bee Jays a 3-0 lead.  Liberal added a run in the second when Justin Harris doubled with one out.  AJ Folds fisted  a single to center for the the 4-0 lead.  The Dirtbags scored a run in the third, but stranded seven runners in the first three innings.  Liberal scored three in the third.  Scott Anderson was beaned to lead off the third.  Blaine Thomas singled.  Ryan Proctor walked.  Jack Malone blooped a single over the third baseman to make it 5-1.  Justin Harris hit a sacrifice fly to right.  Quintt Landis singled home a run for the 7-1 lead.  The Dirtbags scored an unearned run in the fourth to make it 7-2.  Jack Malone whistled a two RBI double down the right field line in the fifth to lead 9-2.  Cayde Ward launched a three run home run into left in the bottom of the seventh to end the game at 12-2.
Ethan Swanson went three innings striking out eight.  Matt Davis went two innings with three strikeouts.  Brady Bowles and Matt Floyd pitched scoreless innings.  The game featured 17 walks as the BJ's walked eight and the Dirtbags walked nine.
Liberal is 14-2 overall and 9-0 in the Jayhawk Division.  The Dirtbags are 7-12 overall and 3-7 in the Jayhawk.  The same two teams meet Saturday night at 7 at Brent Gould Field with the Dugout Show at 6:45 on 1270 and kscbnews.net.   Sharp McQueen PA is the buyout sponsor.