Bee Jays Face Derby in NBC Opener
Brock Kappelmann - August 2, 2021 2:01 pm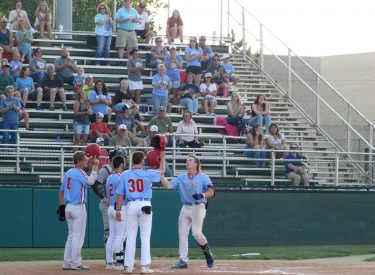 The Liberal Bee Jays open the 87th NBC World Series Wednesday night at 6 at Hutchinson's Hobart-Detter Field.  The 28-6 Bee Jays play the 26-21 Derby Twins for the second time this season. The game will air on 1270 and kscbnews.net.
The winner of the game plays the winner of the Cheney Diamond Dawgs and the Boulder Collegians on Friday.  The losers of those games will also meet on Friday.  The 16 team double elimination tournament will be in Hutchinson from August 4-8.  The tournament moves to Riverfront Stadium in downtown Wichita August 9-14.  Two wins will qualify at team to Wichita.
Derby and Liberal have some familiarity.  The Twins downed the Bee Jays 8-4 July 8 at Panther Field at Derby.  The two teams met in the 2019 NBC World Series with the Twins winning 2-1 over the Bee Jays.  The two programs played in Derby in 2020 with Liberal winning 16-6 and 12-1.  The two programs played each other in the Jayhawk League from 2005-2017.
Liberal has a great NBC World Series tradition.  They are the only program with championships in five different decades having won in 1968, 1979, 1985, 2000, and 2010.  Liberal has the most runner up finishes in NBC history at seven.  They were runner up in 1965, 1969, 1973, 1980, 1981, 1984, and 1992.
The Bee Jays were 2-2 in the 2020 NBC World Series.  They are 4-9 in their past four NBC's and 8-11 in the past five.