Bee Jays Edge Mud Daubers
Brock Kappelmann - June 15, 2019 7:32 am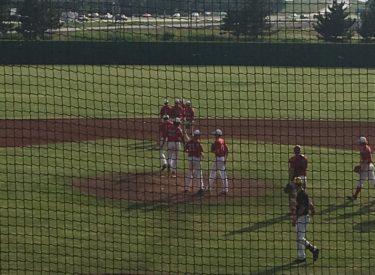 Two out toughness, pitching, and defense. Those three things helped the Liberal Bee Jays to a 4-3 victory over the Valley Center Mud Daubers Friday afternoon at Robertson Field in Wichita.
Trevor Pruitt went five strong innings for the win. He allowed one run, struck out four, and didn't walk anyone. Rafferty Brown pitched two scoreless innings and Trevor MacDonald worked a scoreless eighth. Connor Emmet made his first pitching appearance in the ninth and walked three and allowed two runs but recorded the final out.
Valley Center scored in the first. Liberal answered in the second interview to tie it. Aiden Shepardson singled home Shane Sirdashney. Trevor MacDonald walked in the third. He stole second and advanced to third on a fly ball. Blake Dickman grounded out to drive him home for the 2-1 lead. Justin Quinn walked and stole second to lead off the fourth. He scored on a Jordan Williams bar hop basehit to right. Liberal added insurance in the eighth. Brandon Holdren reaches on a two base error on a missed pop up. Sirdashney grounded a single to left to make it 4-1. Valley Center made it interesting in the ninth with the tying run on third and the winning run on second.
Libetal is 9-3 overall and 8-3 in the KCLB. The Bee Jays are 6-2 on the road trip.  Valley Center is 4-10  and 4-9 in league. The same two teams play at 4 at Robertson Field in Wichita with the Dugout Show at 3:45 on 1270 and kscbnews.net.