Bee Jays Drop Another NBC Opener
Brock Kappelmann - August 5, 2021 7:00 am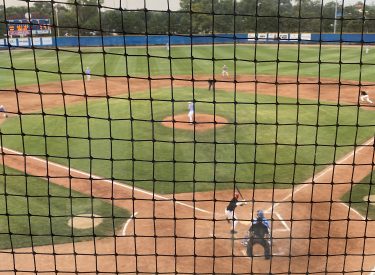 Once again, the Liberal Bee Jays have some digging to do.  For the fourth time in five years, the Liberal Bee Jays lose their opening game at the NBC World Series.  They lost a close well played game 5-4 to the Derby Twins Wednesday night at Hobart-Detter Field in Hutchinson.  The BJ's fell behind 4-0 and rallied to tie it before losing on a walk off sac fly in the ninth.
Two singles and a Liberal balk plated a Derby run in the first.  A two RBI triple and a balk scored three two out runs for Derby in the second.  Quintt Landis launched a home run to center in the third to make it 4-1.  Tyler Boggs ripped a triple off the center field fence to lead off the fourth.  He scored on a Caden Hensley single.  The Bee Jays received bad luck when Hensley was attempting to steal and Justin Harris ripped a line drive to third for a double play.  BJ starter Jack Hagan settled down and the BJ defense sparkled as Aidan Shepardson made  diving play up the middle on a ground ball in the fourth and made a twisting throw on a ground ball up the middle in the seventh.  The Bee Jays  two in the sixth to tie it.  Aidan Shepardson singled to lead off the inning.  With two outs, Justin Harris doubled him home.  Quintt Landis rolled a single through the right side to tie the game.  But the Bee Jays didn't have another hit.  Derby singled to lead off the ninth and the runner stole second.  Tyler Boggs made a diving play at catcher on a Derby bunt.  The runner went to third on a wild pitch.  He scored on a sac fly to right.
Jack Hagan went six innings with seven strikeouts and no walks.  He hit two batters.   He allowed four runs and eight hits.  Cade Citelli went 2 and 2/3 allowing one run.  Quintt Landis and Aidan Shepardson had two hits a piece.
Liberal is 28-7 overall and Derby is 27-21.  Liberal plays the Boulder Collegians Friday at noon with the Dugout Show at 11:45 on 1270 and kscbnews.net.  The game will be played at Hobart-Detter Field in Hutchinson.