Bee Jays Complete Sweep of Denver
Brock Kappelmann - June 26, 2023 7:17 am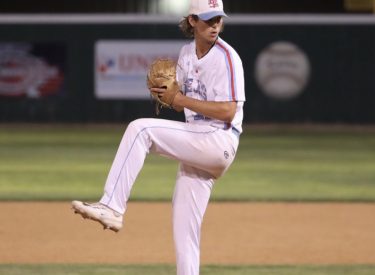 The Liberal Bee Jays swept their three game series with the Denver Cougars after their 8-3 win Sunday night at Brent Gould Field.  The Bee Jays have won five in a row since their loss at Denver on Monday. Sunday night's game was a non league game.
The B.J.'s scored three in the second.  Derek Lukes singled.  Jackson Schofield singled home a run.  Luke Rhee doubled home a run.  Owen Barger hit a sac fly for the 3-0 lead.  Denver scored an unearned run in the third.  The Bee Jays answered with two in the bottom of the third.  Nick Husovsky singled to lead off the inning.  He scored on a Denver error.  Jett Brown ripped an RBI double down the third base line for the 5-1 lead.  The Cougars scored a run in the fourth to make it 5-2.  Denver scored a run after two B.J. errors in the seventh to make it 5-3.  Liberal was tough with two outs in the bottom of the seventh scoring three runs.  Mateo Garcia lofted a two RBI double to left and Nick Husovsky lined an RBI triple over the right fielder's head.
Liberal out-hit Denver 10-3.  Liberal committed three errors and Denver had two.  Luke Wilkerson pitched four innings allowing one earned run.  Tristan Crusenberry went four innings and did not allow an earned run.  He struck out five and walked two.  Ryder Slatten closed it out by pitching a scoreless ninth.  Nick Husovsky was 3-4.  Jett Brown was 2-5.
Denver is 8-9 and Liberal is 12-3.  Liberal hosts the Great Bend Bat Cats Tuesday night at 7pm with Bee Jay Dugout Show at 6:45 on 1270 and 92.3.  Sharp McQueen PA is the buyout sponsor.