Bee Jays Complete 4-0 Trip to Oklahoma City
Brock Kappelmann - June 25, 2020 10:23 pm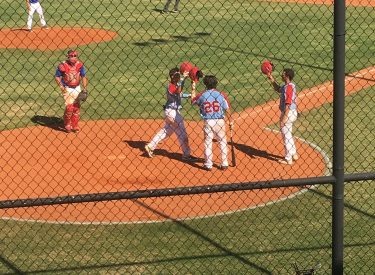 The Liberal Bee Jays finished 4-0 on their road trip to Oklahoma City.  Liberal defeated the Norman Lake Rats of the Sooner Sports League 15-0 and beat a highly successful Lake Hefner Pelicans 4-2 at Palmer Field in Dolese Park.
The Bee Jays opened with five runs in the first inning against Norman. Three walks and an error paved the way.  Kade Brewer doubled home a run. Aiden Shepardson grounded out to score a run.  Jack Malone singled home a run in the second. Liberal scored six in the sixth. Cayde Ward singled home a run and Jake Schulz blasted a homer to left.  In the seventh, the Bee Jays scored three. Malone doubled home a run and Ward drove home two with a double. Malone was 3-4.  Hayden Arnold worked four strong innings with eight strikeouts and no walks.  Dylan Johnson, Kyle Duffey, and John Kelly.
Game two was against a top flight 25 and older team which won a national title in 2017.  Liberal native and 2003 LHS graduate Chance Odom plays for the Lake Hefner Pelicans. Liberal scored in the first for the 8th time in 12 games when Caeden Trenkle singled, stoke second, and scored on Wyatt Grant's seeing eye single up the middle.  Trenkle drove home a second inning run with a ground ball to right.  Kade Brewer led off the third with a single and scored on a passed ball. Brewer doubled and scored on a Pelican error in the fifth.  Wilson Ehrhardt three out a Pelican trying to score from second on a single to end the fourth.  Lake Hefner scored a run in the fifth but a BJ double play got them out of the inning leading 4-1.  The Pelicans scored in the sixth to make it 4-2.  Aaron Funk went four shutout innings.  Payton Strambler worked a scoreless seventh for the save.
The Bee Jays have won 11 in a row and are 11-1. Lake Hefner is 4-1.  The Bee Jays host the Denver Cougars Monday night at 7 with the Dugout Show at 6:45 on 1270 and kscbnews.net.  Equity Bank is the buyout sponsor.
Game 1 audio, Bee Jays at Norman:
Game 2, Bee Jays at Lake Hefner: