Bee Jays Bury Boulder at the Beef
Brock Kappelmann - July 10, 2019 6:48 am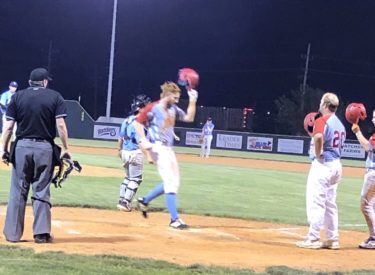 The Liberal Bee Jays played Tuesday at the National Beef Family Sports Complex.  The Bee Jays out slugged the Boulder Collegians 14-10 for their season high fifth straight win.
There was offense early and often in this one.  The Collegians scored three in the first before Shane Sirdashney hit a grand slam for a 4-3 BJ lead.  Boulder scored in the second to tie the game and plated a third inning run to lead 5-4.  Liberal scored five in the third to lead 9-5.  Sirdashney doubled to lead off the inning.  Shepardson doubled him home.  Corbin Truslow provided a single.  Boulder walked three and beaned one.  Boulder scored two in the sixth to make it 9-7.  Brandon Holdren tripled in the bottom of the sixth and Colton Moore doubled him home.  Boulder scored three in the eighth to tie the game at 10.  Liberal came through with four in the bottom of the eighth.  Connor Emmet hit his eighth homer of the summer.  It was a three run shot in the eighth.
Liberal is 21-10 and has won five straight.  The same two teams play Wednesday night at 7 at Brent Gould Field.  Yancey Crane is the buyout Sponsor.
There are several connections to the Bee Jays history with Boulder.  Boulder outfielder Kelby Richardson is the son of 1985 BJ Jim Richardson who played third base for the 1985 NBC championship team.  Boulder coach Eddie Toledo played for the BJ's from 1986-1988.